Selected documents
Receive directly by email all the documents selected during your browsing.
Your selection of documents
Specifications
Virtuo Tiles and Planks
Dry Back
Virtuo 55 : the trendy range boasting professional quality
A stylish range of ultra-realistic floor coverings
The Virtuo 55 collection delivers premium quality for every home. This range features the perfect PVC planks and tiles to match every interior design. Choose from an extensive array of 32 colours, from "Sunny Snow" through to "Blomma Cream" with its natural wood finish, as well as mineral and cement-effect finishes, which will prove a match made in heaven with any interior style, whether Scandinavian, vintage, rustic or contemporary! The beauty of the bright and stylishly designed wood finishes of our imitation parquet planks, the pure modern lines of our concrete-effect tiles such as "Latina Clear", and the natural vintage look of our imitation cement tile flooring will bring added appeal and
character to your home interior without all the downsides and costs involved in installing and caring for a real wood or stone floor.
Glue... and it's laid!
This Gerflor collection is fitted with acrylic adhesive.
Note that the substrate must be especially clean, flat, even, dry and sound. You will also need to allow time for the adhesive to cure.
Dry Back PVC tiles boast a wealth of advantages. Tiles are both extremely hard-wearing and stable, and they are less susceptible to the effects of thermal expansion. They also offer greater sound insulation performance.
Gerflor quality: synonymous with efficiency and durability
Gerflor's Dry Back planks and tiles are completely waterproof, meaning that they are suitable for your home's wet areas and can be fitted in your bathroom or kitchen.
Our silent and durable planks and tiles can easily be cleaned with soapy water in the blink of an eye to keep your rooms always looking spick and span.
With their 0.55 mm wear layer, Gerflor Virtuo Dry Back planks and tiles will last for years and years, and therefore represent the ideal long-term investment. They guarantee superior resistance to impacts, scratches and residual indentation (dents left by furniture legs). Therefore, our products are the perfect solution for every home interior, even in areas with the heaviest footfall. Our tiles are also suitable for light commercial use (Classes 23 and 31).
Gerflor: committed to your health and the environment
Virtuo 55 planks and tiles are 100% recyclable and contain 55% recycled materials as part of the brand's determination to protect the environment, which includes carefully choosing the raw materials and upcycling offcuts (click here to find out more). As with all Gerflor products, this range features an A+ rating for its indoor air quality performance. Choosing Gerflor vinyl planks and tiles is not just good for the environment, but also for your health.
Our company provides long-lasting products. Consequently, the designs in this collection come with a 15-year guarantee.
(Virtuo 55 vinyl planks and tiles; 32 colours; total thickness: 2.5 mm; wear layer thickness: 0.55 mm; four formats: 1219 x 184 mm, 1500 x 230 mm, 457 x 914 mm and 610 x 610 mm. Refer to the data sheet for other characteristics).
Gallery
Get inspired for your project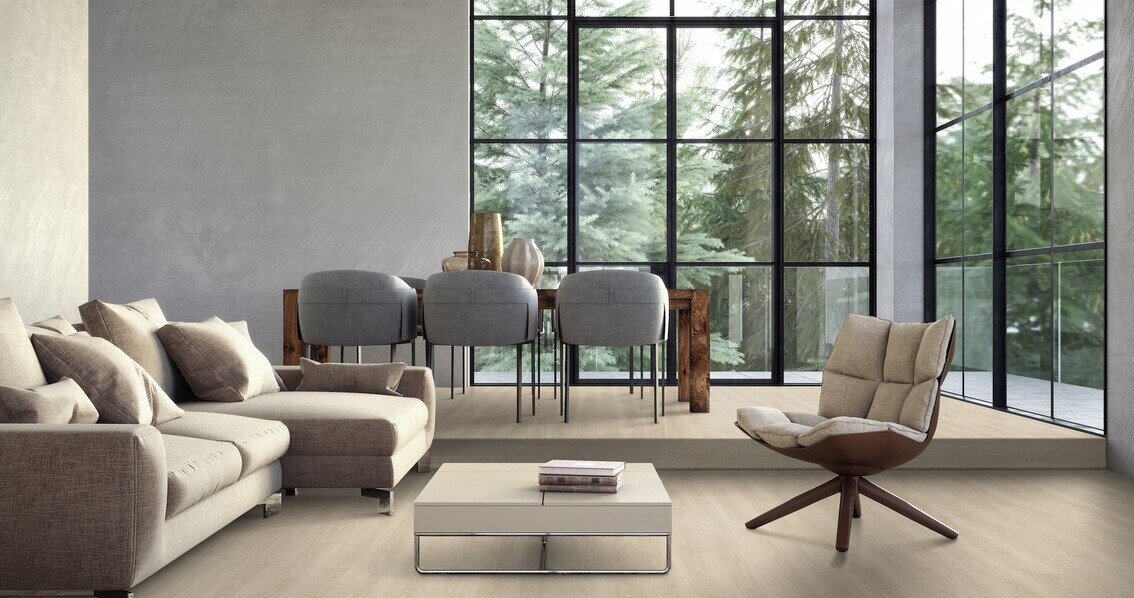 Virtuo Tiles and Planks
Virtuo 55
Colors
Discover our decors
and colours
Results : 32
Filter_colors
Documents
Discover the documents at your disposal for your projects