Selected documents
Receive directly by email all the documents selected during your browsing.
Your selection of documents
HOME Flooring
@clem around the corner - Renovation of a parental suite

The awe-inspiring lightning-fast renovation of a parental suite - before and after
" Today, I'd like to take you to Saint-Didier-au-Mont-d'Or to show you how we completely transformed a parental suite. In just one day, we managed to refurbish a bedroom with an en-suite open bathroom.
Marion and Renaud's pretty house offers magnificent views over the Monts du Lyonnais mountains. But the focus of our attention today is their bedroom with its open en-suite bathroom. The couple contacted me for advice and asked me to give them a helping hand with their renovation plans.
Transforming a parental suite in less than a day
Marion and Renaud were facing a fairly typical problem, and one that you can probably identify with. The aim was to give the room a complete makeover without spending too much time on the process. They were planning on sleeping in the room that same night, so they had to come up with some clever solutions and quick fixes.
Marion and Renaud were looking to create a warm, cosy and stylish feel. As far as I'm concerned, changing the floor covering is the key to a successful renovation, so that's the first thing that needed changing in their bedroom. When we talked about it, they also told me about some of their deal-breakers. Not only did they want a floor covering that would be easy to lay, but it also had to be simple to clean, cost-effective and made in France.
I already had the solution in mind and the ideal product that would tick all their boxes!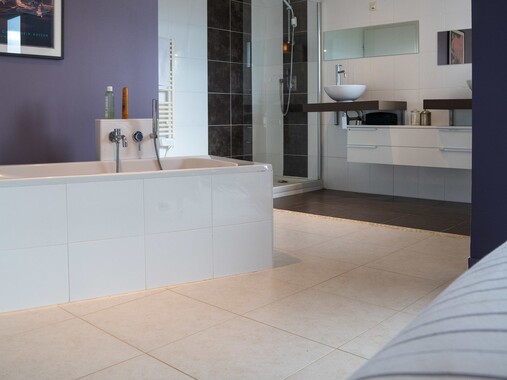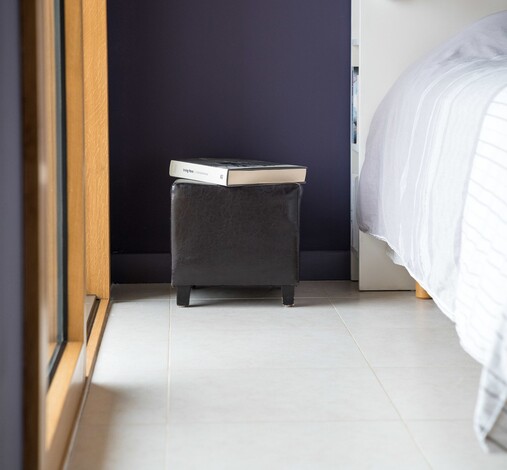 The parental suite before the makeover
Gerflor planks and tiles: the perfect ally for every renovation
There's nothing new about my solution, but it's still just as effective, satisfying and appealing! I'd already used this floor covering with JC when we decided to spend a weekend transforming the bathroom in the old family chalet.
I was convinced – and I still am – that Gerflor planks and tiles are the perfect ally for refurbishing their bedroom and bathroom because:
This floor covering is laid directly on top of the tiles. In other words, there's no need to call in the professionals or rip everything up. As you'll see, we fitted the flooring ourselves in just a few hours. If you're working on a similar project, you can also lay the flooring on your own.
This product is ultra-resistant and suitable for wet areas. Basically, it was an excellent solution for this parental suite.
Gerflor planks and tiles are easy to clean, which was one of Marion and Renaud's top priorities. In everyday life, they can easily be cleaned with soapy water, which is a real bonus!
But Gerflor's Senso Premium Clic is also 100% recyclable and contains 55% recycled products, which fulfilled the couple's determination to do their bit in protecting the environment.
Lastly, the floor covering is made in France.
Therefore, I recommended the Premium Clic range to Marion and Renaud, because it was the perfect fit for their requirements.
When it came to helping them choose the design, I used the free Interior Designer tool available on the Gerflor website. The tool allowed me to incorporate the different finishes straight into a photo of the bedroom that we were looking to redecorate. This meant that the couple could visualise the end result more clearly and choose the best design and finish for their floor. I shortlisted three light wood colours to add the cosy, warm touch that Marion and Renaud wanted. After viewing the simulations in Gerflor's Interior Designer tool, they instantly chose the Cleveland Nature design, which is available in the Senso Premium Clic range.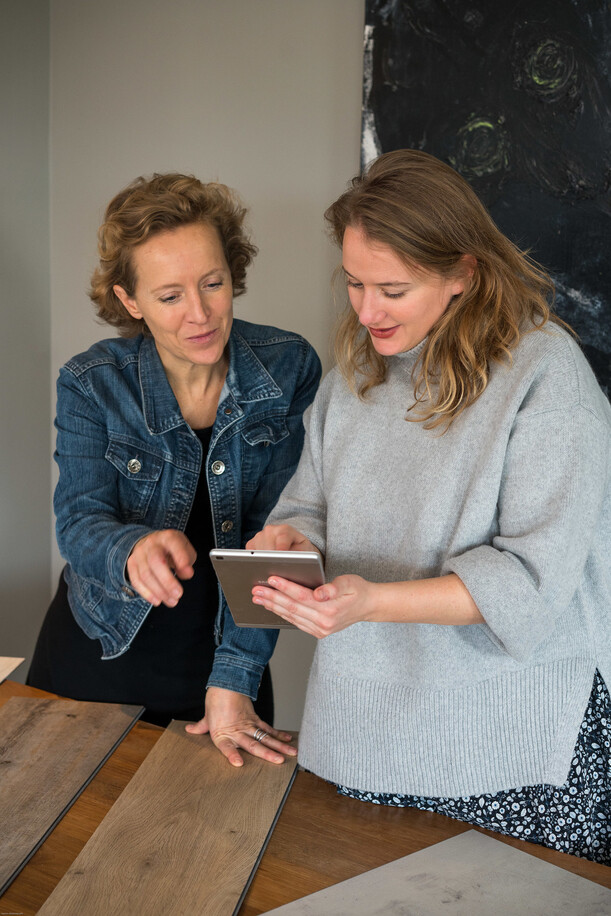 Then it was time for Renaud to knuckle down to some work! Armed with just a utility knife and a mallet, he arranged and laid the planks.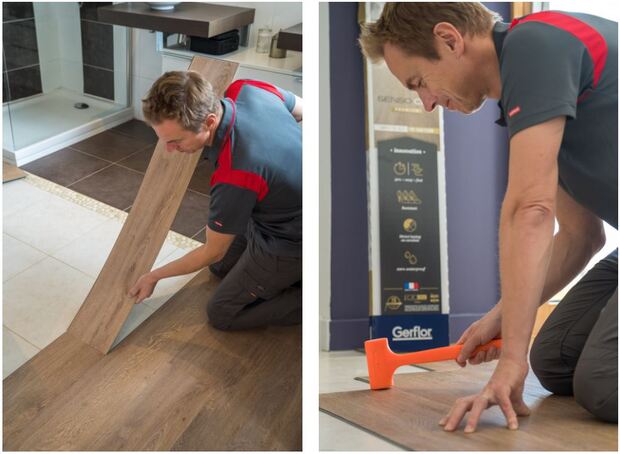 If you'd like to fit your new Gerflor flooring by yourself just like Renaud, then you can! Before you get started, remember to clean the existing tiles without getting them wet. Planks and tiles can effortlessly be cut with a utility knife (for corners, finishes, plumbing, etc.) and snapped together with a mallet.
Bedroom renovation: before and after!
Afterwards, I went back upstairs to add a few decorative accessories. To take their sublime new floor covering to the next level and really emphasise the cosy, warm feel, I decided to add a few natural materials, some candles and dried flowers.
The before and after photos of the bedroom makeover speak for themselves! Renaud laid this new floor covering in the blink of an eye, and it's made all the difference.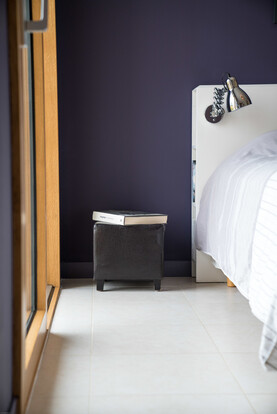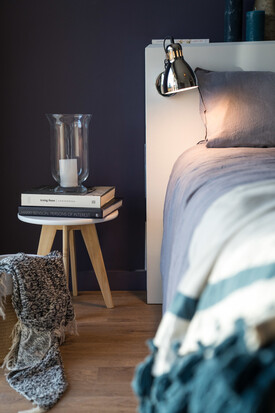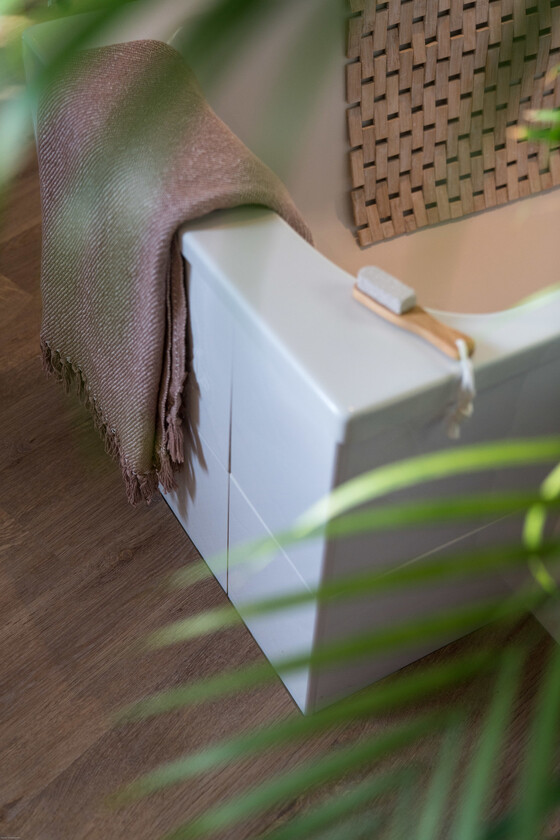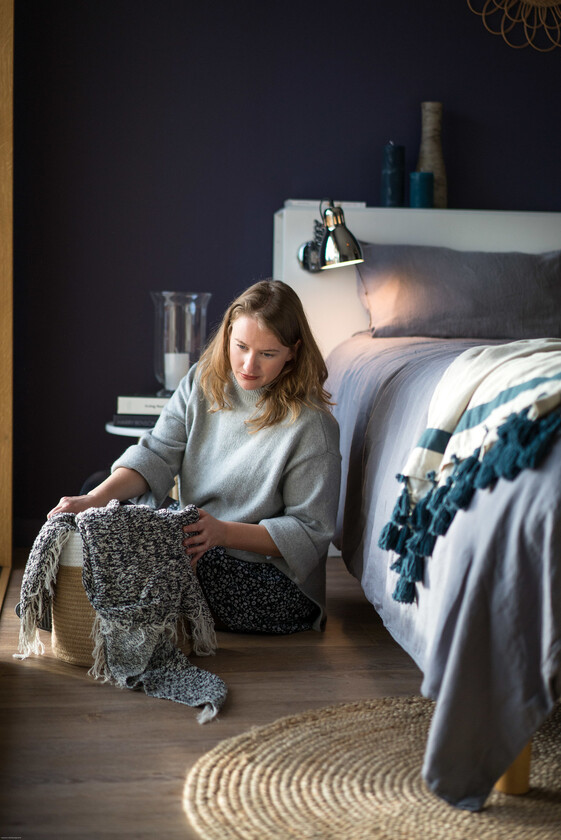 I hope that Marion and Renaud's experience will inspire you to crack on with your own home interior projects. This is the second renovation that I've done with Gerflor products. So now it's your turn! You'll find Gerflor's Senso Premium Clic planks and tiles on such websites as ManoMano and Bricoflor. You can also buy them in major DIY stores, like Leroy Merlin. The retail price works out about €30 per square metre.
Feel free to follow @gerflorgroup on Instagram and discover all the styles and different options available for giving your home interior a complete makeover. Whatever you do, make sure that you use the Interior Designer to choose the best design. Now you've got everything you need to start work on your own projects. It's your turn! "