Selected documents
Receive directly by email all the documents selected during your browsing.
Your selection of documents
An original partnership between Gerflor and the Instagram influencer June Sixty-Five
An encounter turned into an adventure. June Sixty-Five is a fashion and lifestyle blogger who travels from Montpellier to Paris and, more recently, Los Angeles. Passionate about ethnic decoration bargain-hunted around the world, June Sixty-Five was keen to replace her apartment's tile floor, which clashed with the atmosphere that she wanted to create. She turned to Gerflor and its Luxury Vinyl Tiles to bring her floor renovation project to life, while giving importance to criteria such as the floor's aesthetic appearance as well as ease of installation and maintenance. The outcome? Find out below... Great teamwork for a very successful renovation!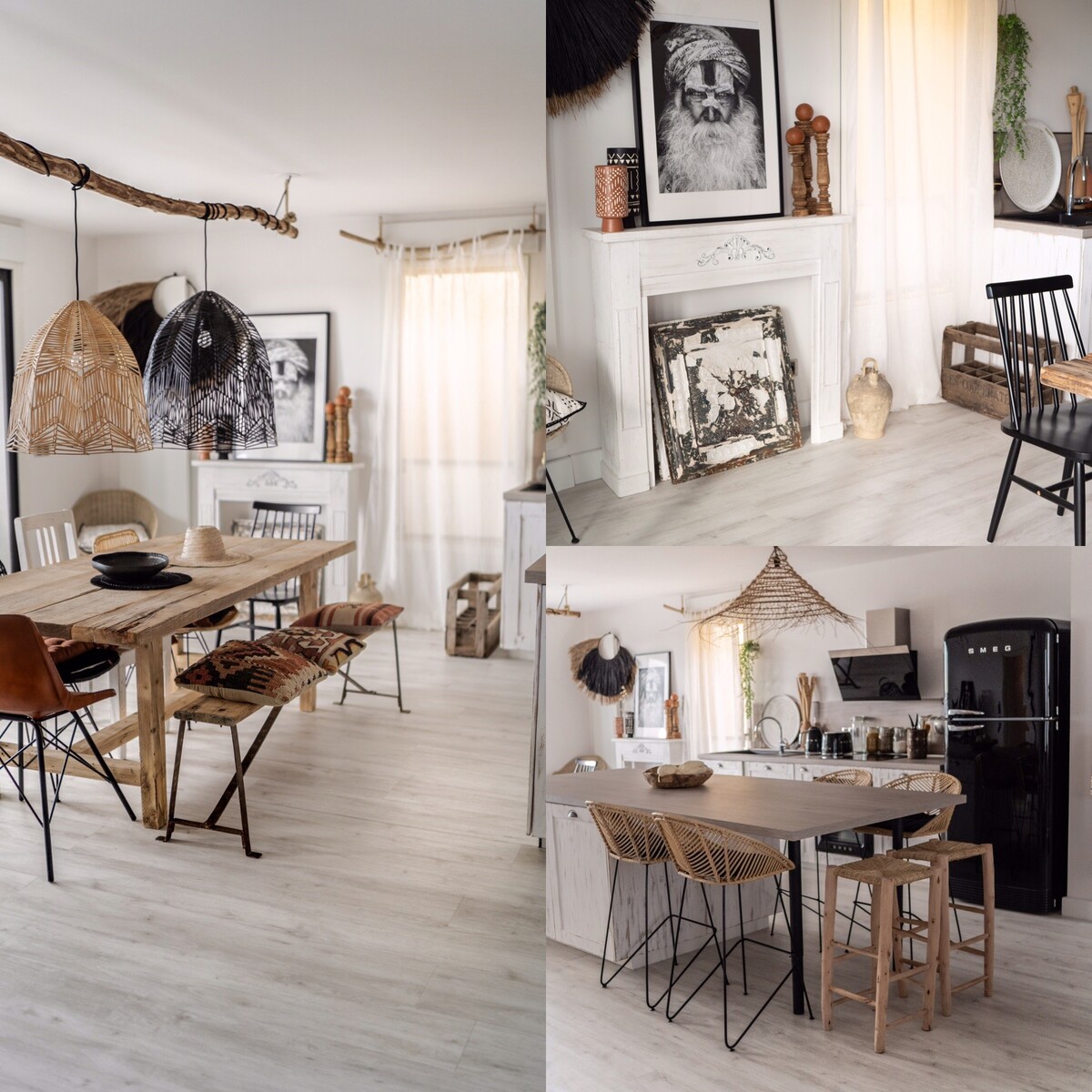 After choosing one of our products in the Senso Premium Clic range, which she laid herself alongside Gerflor's teams, June Sixty-Five told us about her choice and her first impressions following the installation. Here are a few extracts from our conversation with this young and sophisticated but also very busy woman, who did not wish to sacrifice her apartment's interior decoration for her life as a highly sought-after businesswoman.
Gerflor: Who are you, June Sixty-Five?
June Sixty-Five: My name is Federica and I live in Montpellier. I am a fashion blogger and I also focus on lifestyle issues and interior design.
G: Is interior design important to you?
JSF: After fashion, interior design is a real passion. I really enjoy decorating, going into interior design stores, studying trends and having a look at the products available. At home, my style is quite ethnic, slightly bohemian - it is really something that inspires me 100%.
G: Why did you choose vinyl LVT for your floor refurbishment project?
JSF: Initially, I wanted to cover the existing floor in laminated parquet. I spoke about it with my boyfriend's best friend. He asked me: 'Why don't you opt for vinyl tiles?' --- My initial reaction was: 'No, they're ugly! Vinyl is a no-no! --- And he said to me: 'Well, you should check them out because now they make things that look really good.' --- I went into a store to have a look. And in the end, I was won over! I realised that my impression of vinyl tiles was based on lino flooring from 15 years ago. For me, snap-together vinyl planks provided a perfect solution. No glue is used. They are easy to install. They can be removed easily when we move out of the apartment. They are also very thin so there is no need to plane the doors. The tiles are also textured, making them very realistic. That's how I came to my decision. And I said to myself that this was undoubtedly the solution that I needed for my floor.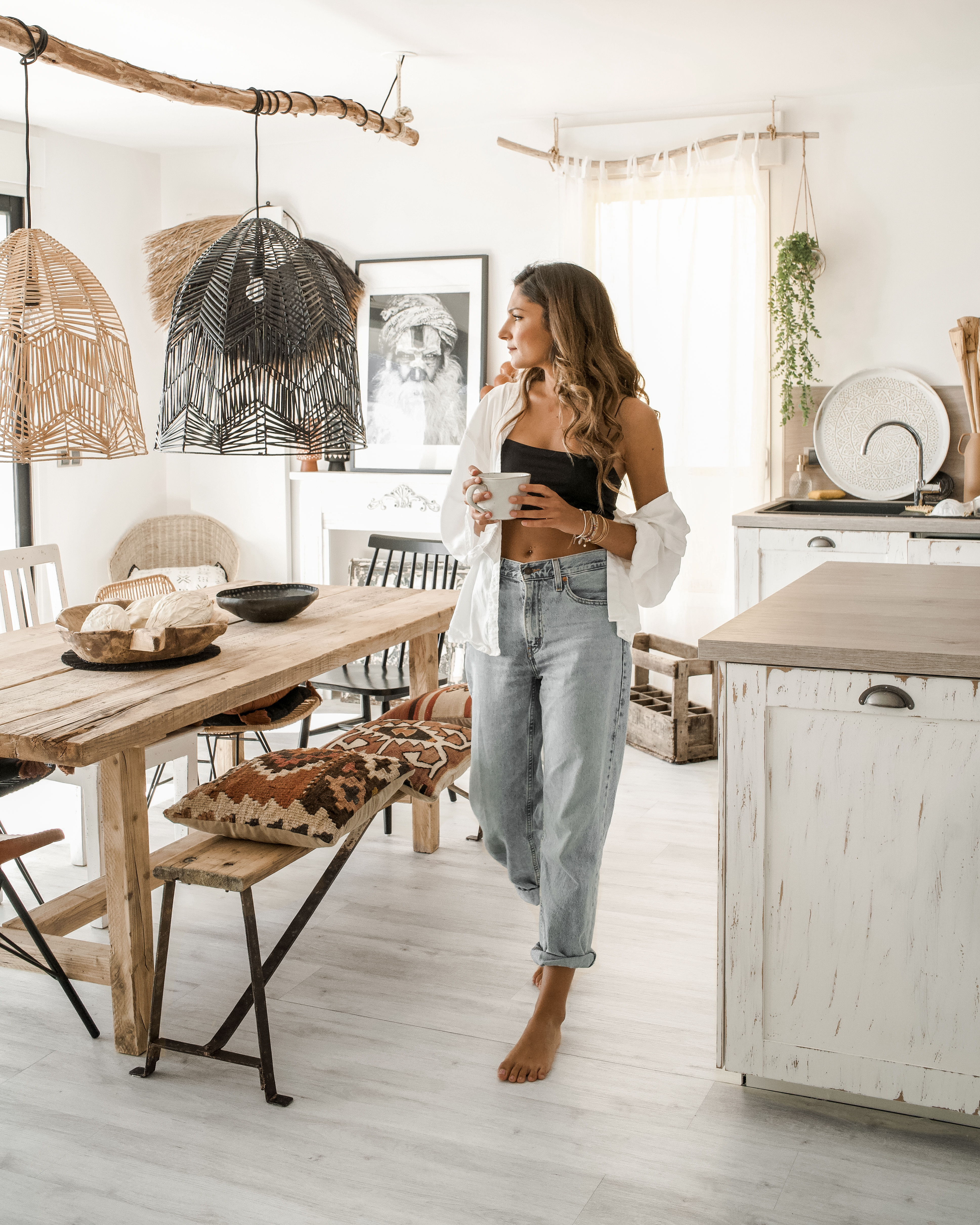 Focus on the Senso Premium Clic Collection
Gerflor supplied 80 m2 of one of its flagship products for home, Senso Premium Clic. Made in France, this range stands out as it is so easy to install and maintain, as well as thanks to its resistance to traffic, water and moisture. The range features more than 20 different colours, particularly very realistic wood, concrete and slate imitations. This product is 100% recyclable, and falls under the highest indoor air emission class (A+); it does not require the use of any harmful glue to be installed thanks to its snap-together system.
G: Why did you choose Gerflor to assist you throughout this project?
JSF: After visiting several stores, I realised that Gerflor was a brand that was present almost everywhere. I discovered that they had a broad range, a lot of choice... In fact, when looking at what the brand does more closely, I found a number of floor coverings that I really liked.
G: Did you fall for any design in particular?
JSF: Initially, I was torn between two ranges: Sunny White (from the Senso Premium Clic collection, Editor's note), the one that I chose, and Crepato Clear (from the Virtuo collection, Editor's note). I really liked the look created by Crepato: quite old, weathered and damaged wood. It was also very realistic. I fell in love with it but the problem was that as my interior design is very ethnic and quite overdecorated, I was afraid that all of it together would be too much. Consequently, I preferred to go for something that was plainer, lighter and more neutral. That is why I opted for Sunny White, which also has the weathered wood effect.
G: What were your first impressions after the first day of installation work?
JSF: I was blown away by how easy it was to install. All you need is a trimming knife to cut the planks, when necessary. It is ultra-simple and exceeded my expectations. You just have to snap them into place and tap them. I had not thought that it would be so easy. I was very impressed. Once in place, with regards to the reflections caused by the windows, the floor is very realistic, even against the light. At the moment, I am very happy and I am looking forward to seeing the whole room finished.
G: Recyclable, Made in France, is this important to you?
JSF: I was quite surprised to learn that it was a 100% recyclable range and also made from recycled materials. The fact that it can be recycled is not obvious and I think it is a point to its credit. Knowing that the floor was made in France also adds value. As a result, the product's carbon footprint is clearly reduced.
G: What's your next design project?
JSF: I was waiting for the floor to be finished before decorating and furnishing the room as I could not see past the existing tile floor. The next project will be my patio. And I am really going to treat myself!