Selected documents
Receive directly by email all the documents selected during your browsing.
Your selection of documents
Specifications
Vinyl Rolls
Textile backing - Looselay
Texline: the gold standard in vinyl rolls for innovation and style
A prodigious choice of designs
The Gerflor Texline range of vinyl floor coverings offers an end-to-end selection of varied designs, colours and patterns, including over 40 PVC imitation finishes, such as cement tiles, ceramic tiles, parquet flooring and concrete.
The Gerflor Texline collection also offers a wide choice of eclectic wood effects, like homogeneous, rustic and patchwork-style flooring. Whether you are looking for a modern imitation parquet PVC flooring in grey, a wood/leather/tweed patchwork style like "Westwood Brown" or a natural wood-effect flooring with plenty of traditional charm like "Sherwood Clear", these vinyl floor coverings from Gerflor are guaranteed to meet your every decorative need and desire! The collection also features several concrete and stone-effect finishes in various hues of grey, such as clay, steel ("Madras Uranus") and anthracite slate. Installing a real concrete floor is often an expensive, complicated and long-winded process, but with Gerflor Texline, you can treat yourself to the floor covering of your dreams! Choose the most appropriate colour for your room and give your home interior a modern makeover without breaking the bank! Imitation cement and mosaic tiles in the Provence, Cordoba and Lorca colours are a must-have if you are looking to add a touch of fantasy to your interior. Gerflor's cement tile-effect vinyl floor coverings are available in a range of sober and elegant colours. They have long been firm favourites for kitchens and bathrooms, but they are also an ideal choice for all the other rooms in the home! Vintage effect guaranteed!
Easy fitting and cleaning
The Texline collection is designed for quick and easy installation on most substrates! The resilient fibre backing absorbs any surface irregularities in the existing substrate without any need to apply levelling compound. The slim-line design means that you will not have to plane your doors. In addition, Texline is compatible with underfloor heating systems (less than 28°C, reversible systems and anhydrite screeds).
You can install this floor covering:
Loose-lay without any glue or adhesive on surfaces up to 35 m²
Semi-loose lay with double-sided adhesive or Velcro-type tape around the edge of the room and along joints in case of larger surface areas
Glue-down: there is no need to glue down the Texline floor covering However, if you wish to glue down the floor covering, you are advised to use an acrylic emulsion adhesive applied to only one surface (coverage of approximately 250 g/m²) with a finely notched spreader.
This PVC roll can be semi-loose laid on most substrates without any need to apply levelling compound:
On ceramic tiles with no joints (such as terrazzo) or with joints (less than 5 mm wide and 1 mm deep, or after levelling the joints)
On floated concrete - there is no need to prepare the substrate if loose-laying the product directly, or apply Velcro-type tape around the edge of the room (in this case, prime the surface beneath the tape). The product cannot be laid on unfinished concrete without first applying a levelling compound. In some cases, the substrate may need to be levelled or repaired to ensure a perfect finish.
On floorboards with a maximum gap of 3 mm between boards and no uneven areas of more than 1 mm
On compact PVC
On needlefelt and short-pile carpet
However, any substrates such as laminated parquet or thick carpets must be removed.
Texline is a hygienic floor covering that could not be quicker or easier to clean. To remove everyday dust, simply use a broom or vacuum cleaner. For a deeper clean, simply use a damp mop with some soapy water (or neutral detergent) and then rinse with clean water! You will not need to use any wax, oil, solvents or polish. In fact, you are actually advised to avoid such products, because they could damage your vinyl floor covering.
Gerflor quality and innovation
This collection of vinyl rolls is available in widths of two and four metres, and has been designed to withstand the wear and tear of everyday life. The rolls have a total thickness of 2.9 mm, including a 0.35 mm wear layer, as well as a sealed surface, thereby delivering excellent resistance to scratches, impacts, UV light and stains.
The patented GFT textile backing (Gerflor Fiber Technology) allows the floor covering to be laid without any need to use glue or prime the substrate, which guarantees superior indentation resistance (spring effect of the fibres). In addition, this vinyl roll flooring absorbs impact noise and offers considerable sound insulation performance of 16 dB!
Texline is the ideal vinyl roll flooring for renovations with a Class 23 and 31 foot traffic rating. It is suitable for heavy-duty residential use (lounges, dining rooms, passageways, bedrooms, etc.) and light commercial use (hotel rooms, private areas, offices, etc.). Due to its vinyl construction, this Gerflor PVC floor covering is also waterproof and non-slip (R10 non-slip rating), making it the ideal choice for renovating such wet areas as bathrooms and kitchens! Bearing testament to Gerflor's superior quality, Texline also comes with a 12-year guarantee for domestic use.
Gerflor: committed to your health and the environment
When it comes to sustainable development, we go the extra mile to reduce our environmental footprint and offer an extensive range of products specifically designed to protect your health. Recycling forms the backbone of our manufacturing processes, and we consistently use safe and sustainable raw materials.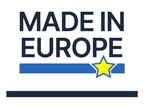 Texline vinyl flooring is produced in France and designed to create a healthy indoor environment and more eco-friendly homes. Our products do not contain any formaldehyde, lead, heavy metals, solvents or harmful plasticisers. This recyclable vinyl roll incorporates the GFT backing made from over 95% recycled fibres.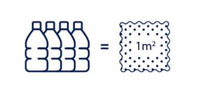 Thanks to 4 bottles, we can manufacture 1m2 of floor with textile backing.
It features an A+ emissions rating, meaning that it does not release any or very few VOC emissions, thereby guaranteeing superlative indoor air quality. Finally, Texline is a loose-lay solution that does not require any glue and which is easy to clean with soapy water.
(Texline vinyl roll, 102 colours; total thickness: 2.9 mm; wear layer thickness: 0.35 mm; weight: 2,000 g/m². Refer to the data sheet for other characteristics).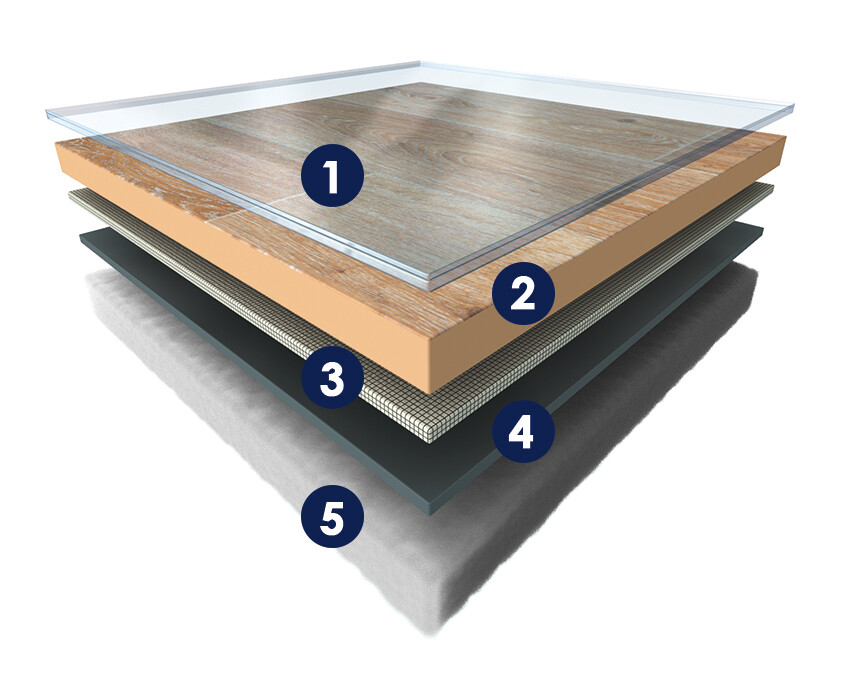 Transparent wear layer + Protect varnish
Resistant to traffic
Protection against scuff marks and scratches
High resolution design
Solvent free ink
Realistic printed design
Fiber glass
Resistance & Dimensional stability
During temperature changes
Compact layer
Polyester fibers backing
95% fibres recyclées (recyclable bouteilles plastique)
Looselay on irregular subfloors
Better resistance to indentation
Acoustic insulation & comfort underfoot
Gallery
Get inspired for your project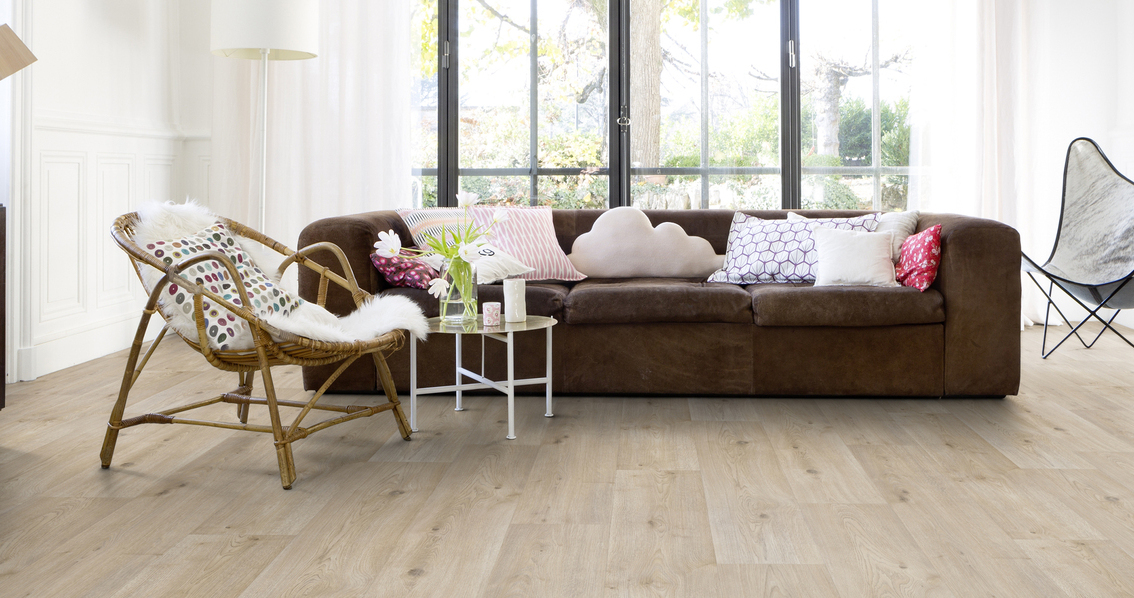 Vinyl Rolls
Texline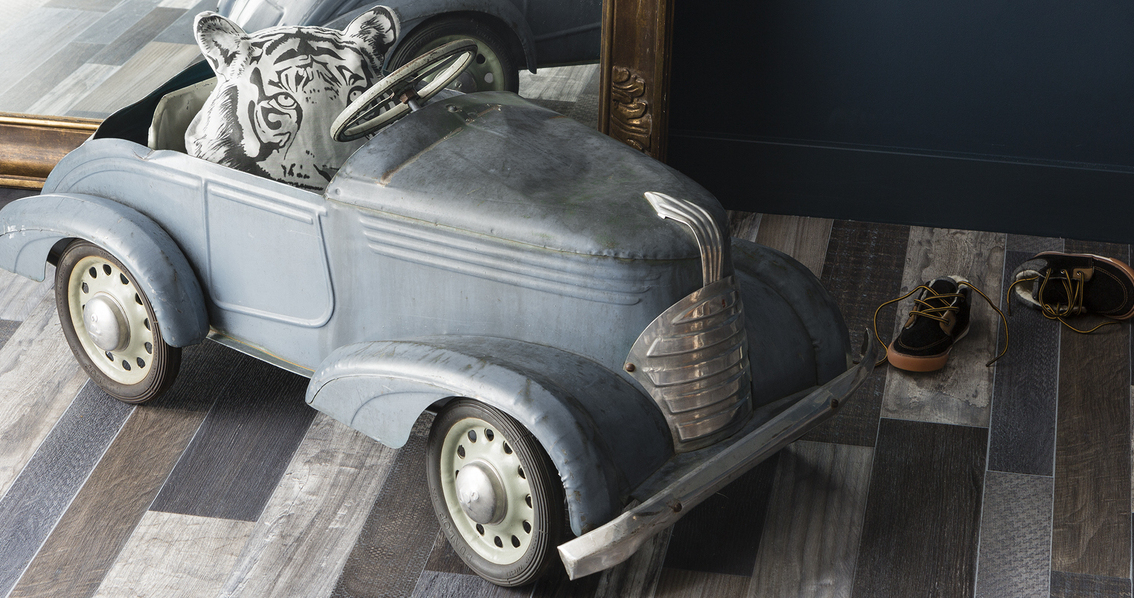 Vinyl Rolls
Texline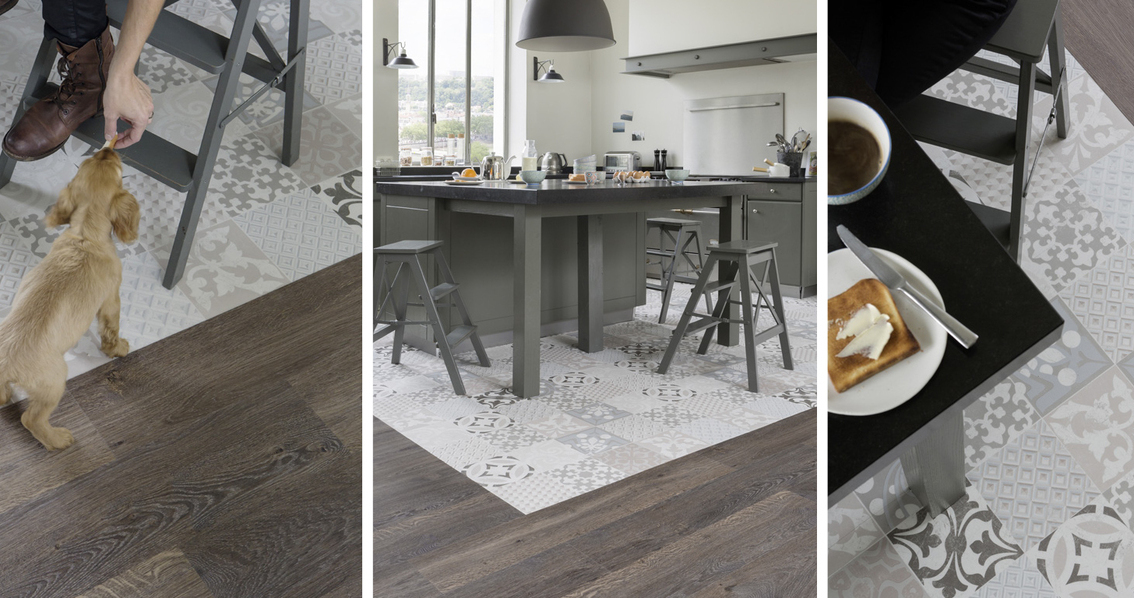 Vinyl Rolls
Texline
Colors
Discover our decors
and colours
Results : 86
Filter_colors
Documents
Discover the documents at your disposal for your projects
Complementary Products
In addition to the product Texline, we also recommend you to take a look at the complementary products