Selected documents
Receive directly by email all the documents selected during your browsing.
Your selection of documents
Specifications
Virtuo Tiles and Planks
Rigid
Virtuo 55 Rigid Acoustic, the ally of professional renovations
Diversity and realism of the decors
Virtuo 55 Rigid Acoustic, there are 32 colors available with stunning results: parquet, waxed concrete, stone: The very realistic appearance of the decors and its matte finish will reinforce the feeling of warmth in your home while blending perfectly with the style of your interior.
Light colors such as "Blomma Light" and "Bohem Beige" will bring calm and softness to your living space. While the more rustic "Daintree Honey" and "Qaja" will bring a lot of authenticity to your interior.
Easy renovation just a click away!
The great advantage of this range is the possibility of installing on a deformed support! This makes the Virtuo 55 Rigid Acoustic PVC floor an ideal solution for a renovation.
Installation is therefore possible, for example, on tiles if the joints are less than 8 mm wide and 3 mm deep. As with the majority of Gerflor PVC floors, the support must be flat, dry, rigid and clean. In addition, the underlay being already incorporated into the product, you will not need to add one during your installation.
Available in plank (229 x 1492 mm), XL plank (229 x 1250 mm) or tile (399 x 730 mm) format, Virtuo 55 Rigid Acoustic vinyl plank is equipped with an integrated acoustic underlay which makes it possible to limit noise especially if you live upstairs. Laying without glue, Virtuo 55 Rigid Acoustic is suitable for laying on a hydraulic heated floor. However, installation on electric underfloor heating is prohibited. Resistant to humidity, they are ideal for installation in the kitchen and bathroom.
The reliability of the rigid, for all
The main advantage of this PVC floor is its rigidity: it will not move if you try to bend it, this rigidity allows resistance to deformation under the effects of time and heat. Highly non-slip (R10), thus reducing the risk of slipping, this vinyl floor is also capable of withstanding very heavy loads: the residual indentation after static load does not exceed 0.10 mm.
Gerflor's rigid PVC floor is resistant to synthetic products and chairs with wheels. It is antistatic and flame retardant (Bfl-s1). The colors deteriorate very little over time because the product is resistant to UV rays.
Virtuo 55 Rigid Acoustic tiles and planks are an ideal solution, including for the pros: indeed, they are able to withstand intensive commercial use and even medium industrial use thanks to its wear layer of 0.55 mm. This product is therefore suitable for housing, small shops upstairs, a hotel room, or even individual offices.
Gerflor is committed to you
Phthalate-free, Made in Europe, 100% recyclable, Virtuo 55 Rigid Acoustic tiles and planks are part of an eco-responsible approach. The range, like all Gerflor products, is classified A+ for indoor air quality, with a very low level of fine particle emissions. Choosing Gerflor vinyl tiles and planks is as good for the environment as it is for your health. Its resistance to chemical products allows maintenance with ecological household products, black soap or Marseille soaps in particular. And to be sure to keep your Gerflor floor spotless for a long time, remember to protect the legs of your chairs and furniture to avoid any risk of scratches.
The warranty for the decors in this collection is 15 years.
(Virtuo 55 Rigid Acoustic vinyl tiles and planks, 32 colours. Total thickness: 6 mm; Wear layer thickness: 0.55 mm; Three formats: 229x1492 mm or 225x1250 mm or 399x730 mm; Weight: 7000 g/m². See data sheet for other features).
Gallery
Get inspired for your project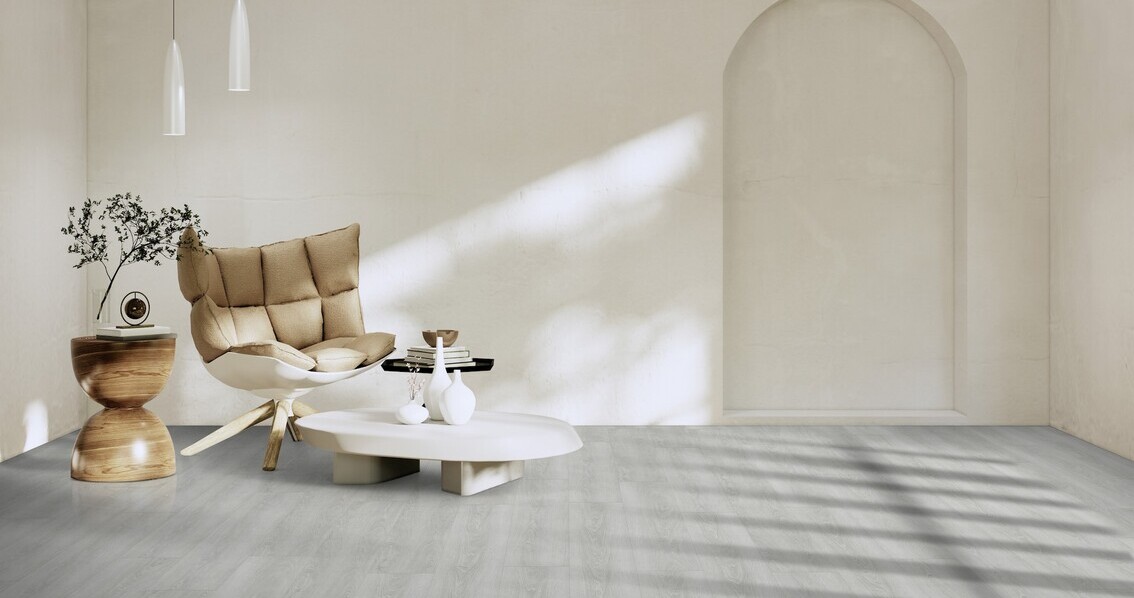 Virtuo Tiles and Planks
Virtuo 55 Rigid Acoustic
Colors
Discover our decors
and colours
Results : 32
Filter_colors