Selected documents
Receive directly by email all the documents selected during your browsing.
Your selection of documents
Maïa Chä: a soothing, retro kitchen with a terrazzo effect
An indulgent renovation. Maïa Chä loves photos and smiling faces. With her blog, she shares her moments of joy, favourite foodie haunts, cheeky tips, happy portraits and mouth-watering recipes. Just like a ray of sunshine, her blog knows how to create a warm glow inside while serving up a heathy dose of good humour. Drawing on her passion for interior design, she was keen to replace the tiled floor in her kitchen, which clashed with the atmosphere that she wanted to create. She turned to Gerflor and its rolls to bring her floor refurbishment project to life. A stylish design, easy installation and simple maintenance were top of the priority list.

So what is the result? An exquisitely styled kitchen with a slightly retro feel, featuring light and colourful tones, where the flooring reveals all the intricate details. After choosing one of our products from the Texline range, which she fitted herself with a helping hand from Gerflor's teams, she told us about her choices and her first impressions following installation. Here are a few extracts from our conversation with this young, creative and multi-talented woman, who didn't want her life as a busy mother standing in the way of her dream home interior.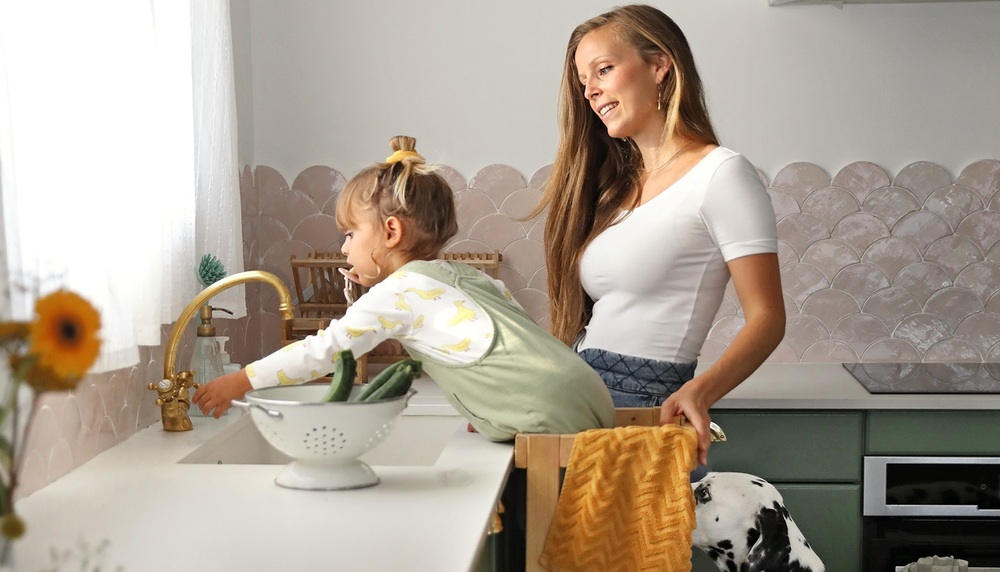 Who are you, Maïa Chä?
A-ha, I don't really like that question, because I'm not too sure :). I'm a lot of different things at the same time. It depends on the weather, the people I'm with, my state of mind at any given time, or even whatever I happen to be wearing :). But here's a good way of describing me... I'm the mother of a ray of sunshine, I live near Hossegor in the south-west of France, and I'm a freelance photographer specialising in cookery and lifestyles. I adore my work. I love smiling faces and beautiful landscapes (and beautiful hotels). I'm an ultra-foodie. I need soft and warm colours in my life, and I would do absolutely anything for my daughter <3.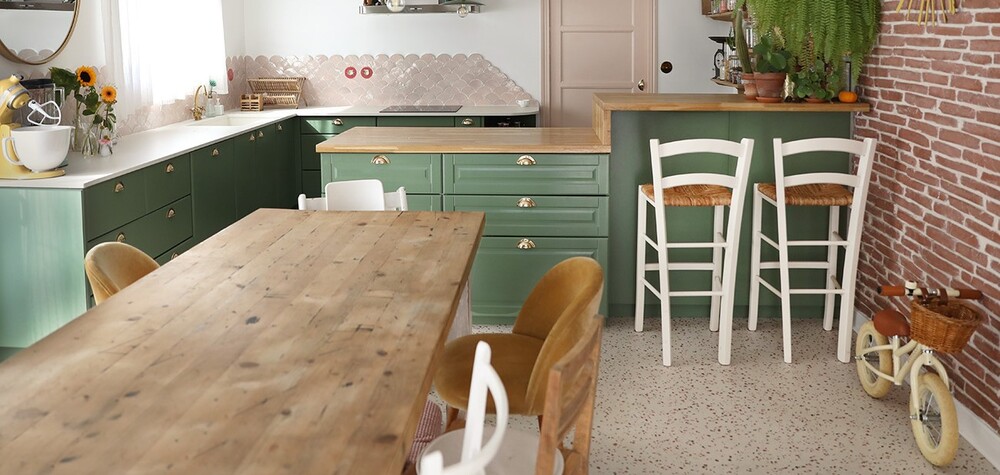 Is interior design important to you?
Oh definitely! I studied applied arts, and interior design was a major part of the syllabus. I enjoyed it so much that I nearly went into a career in that particular field. I think it's so important for the home to be a haven of peace. It changes everything! Creating rooms and harmonious atmospheres with a high feel-good factor is really a great career.
Why did you choose Gerflor to assist you throughout the project?
Firstly due to the eye-catching and practical design. Basically, I wanted a terrazzo floor... but it would have been a massive job (moving the whole kitchen, breaking up the floor, screeding the floor, laying the stone and refitting the kitchen). My other half was not at all ready to undertake such a major project, especially since he didn't want to touch the tiles. Then I came across Gerflor's products. Wham, I was instantly hooked. That's how I want my whole house! Ultra-fast installation, clean, hard-wearing, eye-catching, a wide range of patterns and no need to rip up the existing floor. Basically, it was the perfect product (Texline Confetti Beige).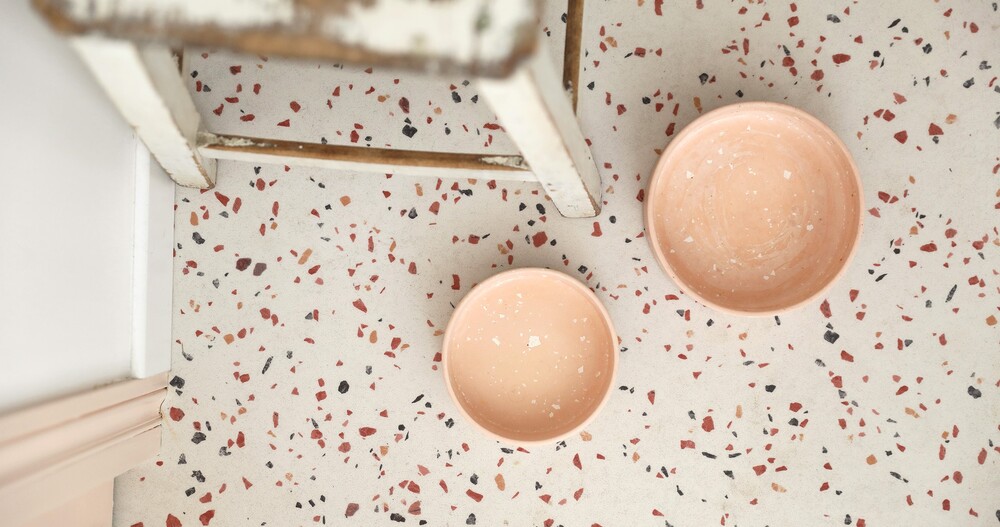 Was your choice influenced by Gerflor's commitments for protecting the environment?
Afterwards when I took a look at Gerflor's commitments to the environment, it simply reassured me that I had made the right choice!! I think their products are so wonderful that I've told all my friends and family about them, not just about their ethical credentials, but also their stylish designs.
What were your first impressions a few weeks after it was laid?
I like it a lot! The room is a thousand times brighter like that. It's soothing, but still has plenty of character. Even with pets and a child, the floor doesn't look dirty (thanks to the confetti design ;) ). It's much more enjoyable to walk on than tiles. And you don't break so many things when you drop dishes or glasses :). I really do love it!
What's your next design project?
Ha ha, I think I've got too many! The office (Texline Confetti), the guest bedroom (Paris Blond), both bathrooms (Playa White), the garden room (Harbor Nature)... and finally... a massive BARN (also with Confetti) that needs doing up! I've pretty much got my hands full!! :) I definitely won't have time to get bored :)