Selected documents
Receive directly by email all the documents selected during your browsing.
Your selection of documents
Specifications
Virtuo Tiles and Planks
Dry Back
Herringbone vinyl floors: transform your interior into Haussmann style
One of the great advantages of vinyl flooring is that it is a floor covering perfectly imitating all other floor coverings, including parquet.
Herringbone vinyl flooring gives your interior the look of a Haussmanian apartment.
This design floor perfectly incorporates all the characteristics of classic herringbone parquet, but at a more affordable price!
This floor has many advantages, both practical and aesthetic:
• Herringbone design shows a more luxurious and delicate appearance. It brings character to a room without breaking the bank and embarking on major works.
• PVC herringbone flooring is less expensive than real herringbone parquet
• It is easier to install than an herringbone parquet, it takes less time so it does not immobilize your room for days, and it is also a money saver if you hire an installer.
• Maintenance is simpler: soapy water, a vacuum cleaner, and no detergent, which is better for the environment.
5 wood colors are available, depending on your interior decor and your tastes.
Light colors bring brightness to a room and give the impression of volume. They blend into a Scandinavian, bohemian or classic decor.
The brown color is a timeless classic that perfectly imitates oak wood.
Glued, it's done
This Gerflor collection is installed with an acrylic glue.
Note that it implies a particularly clean, flat, smooth, dry and healthy support, as well as a drying time.
The glue-on PVC plank has many advantages. Very resistant and stable, it is also less subject to expansion and has better sound insulation.
Gerflor quality: efficiency and durability
Perfectly waterproof, these planks are compatible with your wet rooms and can be installed in your bathroom or kitchen.
With its wear layer of 0.55 mm, Gerflor Virtuo to be glued has a significant longevity and will be ideal for a long-term investment. It guarantees increased resistance to shocks, scratches and persistent indentation (marking of furniture feet). It will therefore suit all your interiors, even in rooms that receive a lot of traffic. You can even install these tiles in light commercial environments (use class 23/31).
Gerflor is committed to you
100% recyclable, produced from 55% recycled materials, the Virtuo 55 tiles and planks to be glued are part of the brand's eco-responsible approach, ranging from the choice of raw materials to the collection of scraps (to find out more more, click here). In addition, the range, like all Gerflor products, is classified A+ for indoor air quality. Choosing Gerflor vinyl tiles and planks is as good for the environment as it is for your health.
We also rely on durability: the warranty for the decors in this collection is 15 years.
(Virtuo 55 vinyl planks to be glued in herringbone format, 5 colours. Total thickness: 2.5 mm; Wear layer thickness: 0.55 mm; 1 format: 152x762. See technical sheet for other characteristics).
Gallery
Get inspired for your project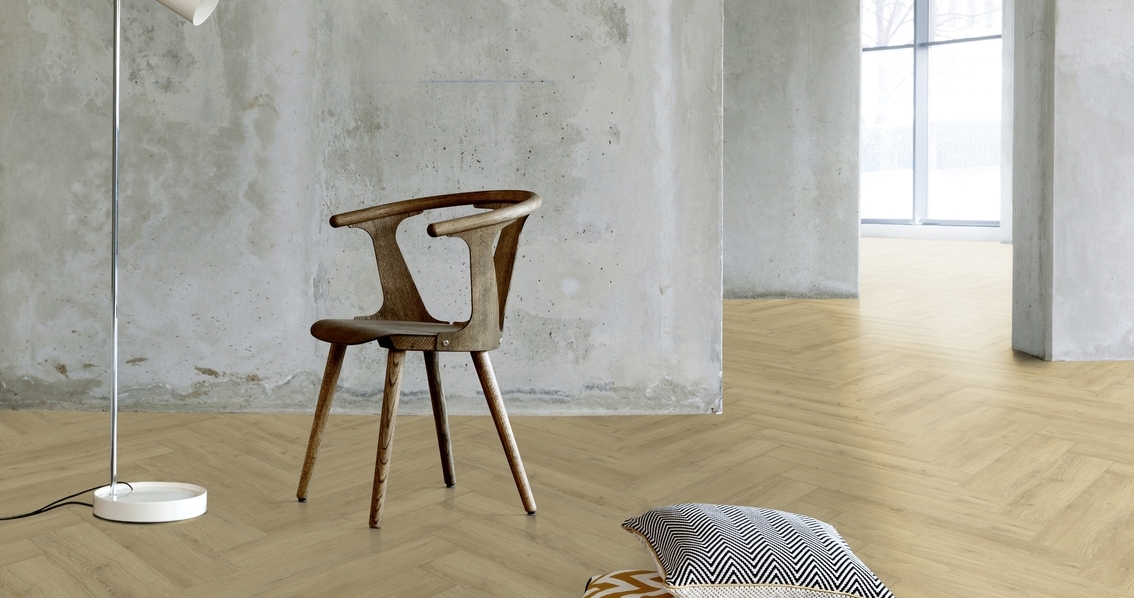 Virtuo Tiles and Planks
Virtuo 55 HB
Colors
Discover our decors
and colours
Results : 5
Filter_colors