Selected documents
Receive directly by email all the documents selected during your browsing.
Your selection of documents
Regards & Maisons harnesses the trend for natural wood with the L'Escalier Vert renovation
L'Escalier Vert (meaning green staircase) is the name given to the cosy apartment that Nathalie has lovingly renovated into a real showstopper in the historical centre of Narbonne, a city that attracts countless visitors from around the world. She created her home design blog "Regards & Maisons" as a way of sharing her personal insights into interior decoration, her latest inspirations, the hottest trends and her travels, as well as some details about her home design projects. No rules, just inspiration! Taking time to look at a place, an object, a fleeting moment, a person or a journey is the ideal opportunity to forge memories, take photos and get the creative juices flowing. For Nathalie, the pleasure that comes from observing her surroundings quickly brings inspiration.

True to her passion for home design, Nathalie was keen to renovate her damaged flooring with a solution that would bring a warm and classic touch to her small apartment in Narbonne. She turned to Gerflor and its Rigid collections to bring her floor refurbishment project to life. A stylish design, easy installation and simple maintenance were top of the priority list. After choosing one of our products from the Rigid range, which she fitted herself with a helping hand from Gerflor's teams, she told us about her choices and her first impressions following installation. Check out our conversation.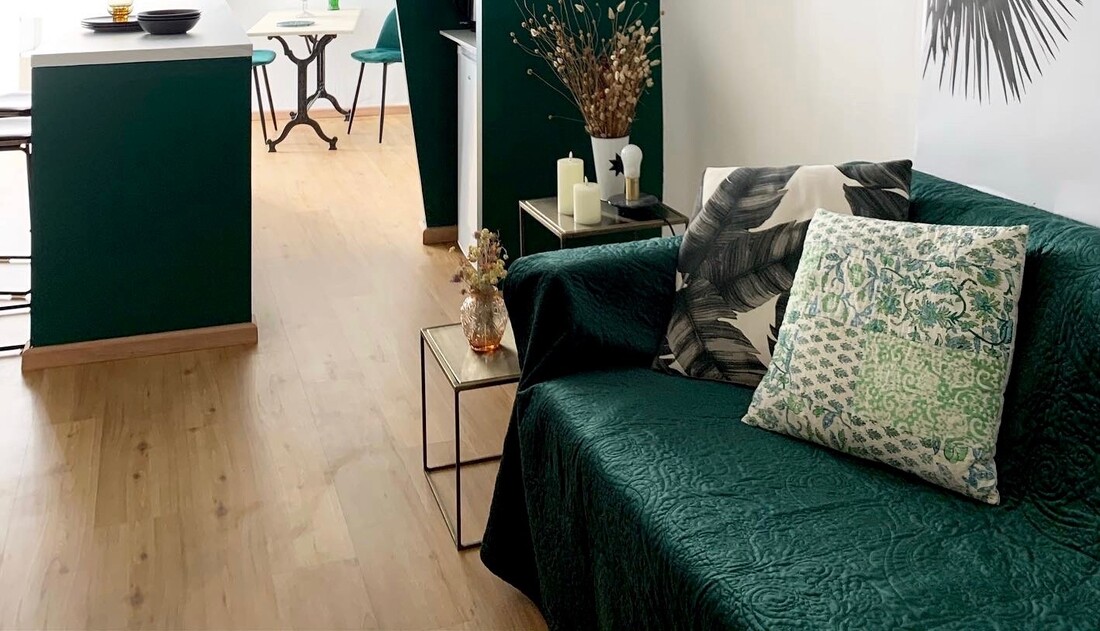 So what exactly is "Regards & Maisons"?
My name's Nathalie and I'm a huge fan of interior decoration, home design and architecture in general. I was born in the south of France and I still live there. I love the local region, the sun, the colours and the lifestyle. I also enjoy travelling and discovering other places, as well as soaking up and drawing inspiration from other cultures and ways of life. I created my blog (Regards et Maisons) over 10 years ago as a way of channelling all the design ideas and desires streaming through my head and putting them into writing. Since then, I've carried out various refurbishment projects, especially in guest houses. I love it when the place tells a story. I really enjoy giving that story a new twist during the makeover by adding my own decorative touch. Regards et Maisons has turned into a sort of logbook where I can write down and share all my inspirations, my projects (or my dream projects), my favourite haunts, my travels and the latest things that have caught my eye.
Why did you choose LVT flooring to refurbish your floor?
Unfortunately, the green terrazzo tiles on the floor were beyond repair, so I wanted to cover them with wooden parquet flooring. I decided to fit vinyl planks, because they can be used in every room of the home, including wet areas like the bathroom. In a small apartment like mine, fitting the same type of flooring is essential for making the space look bigger, especially in here where the kitchen features bold colours and takes up lots of room with all the units. It was important to choose a bright floor covering, so that the eye can move freely about the room without getting overwhelmed, while bringing the warm visual touch inherent in the "wood". The advantage with this floor is that it's not really hard to fit, because the planks clip together, and it's so easy to clean. Another key point is that the vinyl flooring isn't very thick, meaning that there wasn't any problem keeping the original front door. This is a vitally important issue when renovating a property.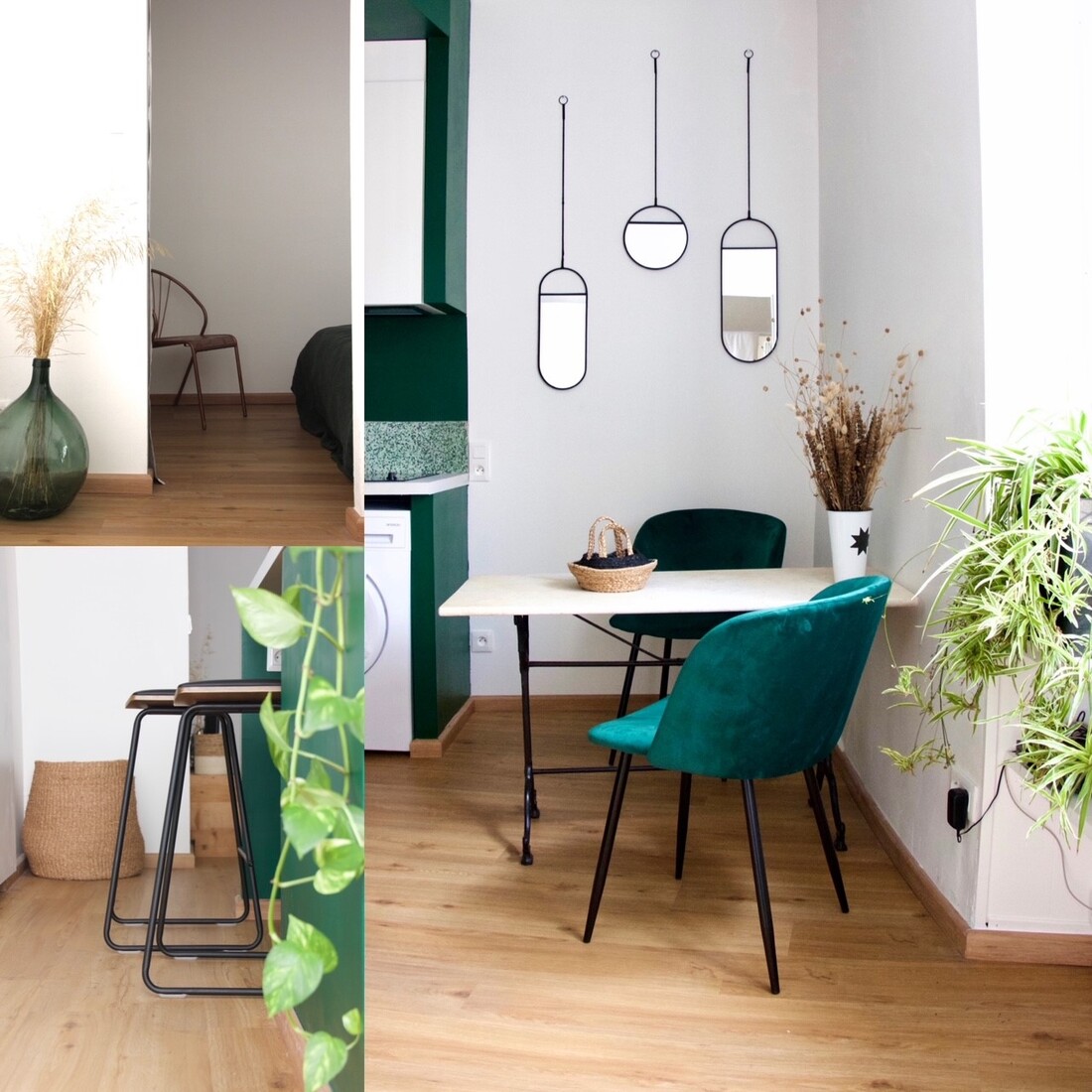 Why did you choose Gerflor to assist you throughout this project?
I'd already laid Gerflor flooring when I renovated my first apartment. I remembered that we'd fitted the flooring ourselves without a problem. I was so delighted with the result and long-lasting quality that putting my faith in the brand again was a no-brainer. In my opinion, Gerflor is a brand that inspires confidence, has a long track record and thinks carefully about the impact of its production processes on the environment. They also have an extensive catalogue. Their products are timeless, which is a major advantage for their durability. They also know how to update their ranges to reflect the latest trends but without going overboard. Since I'm really demanding when it comes to my choices, I don't feel restricted at all with Gerflor's designs and styles. Snags and other unexpected incidents are always likely to crop up during a renovation, so it's important to enlist a helping hand from a good team of tradespeople and use materials and brands that you can trust.
Was your choice influenced by Gerflor's commitments for protecting the environment?
Definitely. Nowadays, you can't just go and buy a product blindly without taking a closer look at what the brand is doing to protect the environment. Before I ordered my flooring, I obviously visited Gerflor's website to check out their environmental commitments and what they're doing to reduce their water and energy use during production, promote sustainability and encourage recycling. For my L'Escalier Vert apartment, I chose a product that snapped together, because I didn't fancy using glue. The Rigid Lock Acoustic solution is phthalate-free and contains only a very low amount of volatile organic compounds. It's fully recyclable. Even though I think my flooring has still got many years ahead of it due to its high quality, it's important to know that it can always be given a second lease of life.
Did you fall for any design in particular?
For this project, I wanted parquet flooring with wide planks that would look like natural wood. In terms of appearance and touch, the flooring I've chosen is slightly textured and features a beautiful design that you can't tell apart from real wood. The flooring is a real treat for the eye and really enjoyable to walk on barefoot. I really fell in love with it!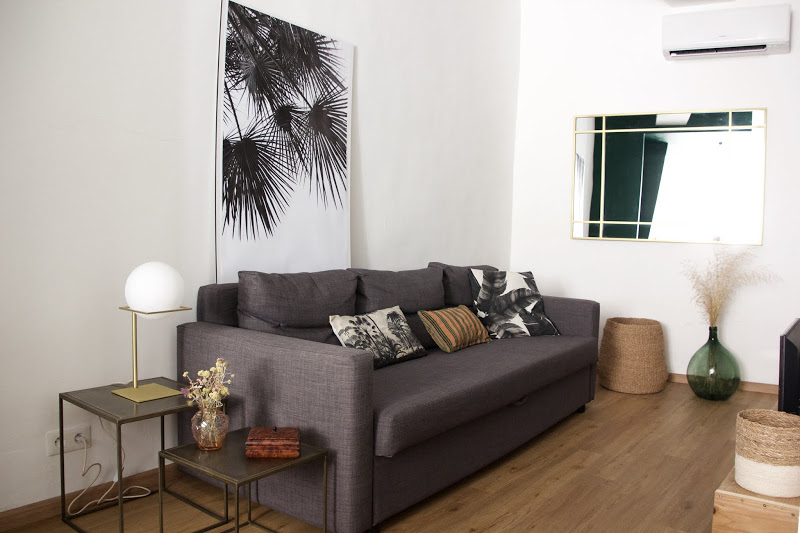 What were your first impressions a few weeks after it was laid?
As I was expecting, the flooring is just like it was the first day. My test area is the bathroom, because water is always getting splashed. There are no rings or warped planks. The flooring hasn't moved an inch. It can easily be cleaned without needing tons of products.
What's your next design project?
The refurbishment took several months, so I'm going to have a little break. I'm going to spend more time on interior design than major renovations. I also fancy giving my house some TLC, because I neglected it when I was renovating the L'Escalier Vert apartment. I need to sort out the flooring in my office, which I've been putting off for months, and I might make a few changes to the front room as well. I've always got plenty of projects in mind. I don't get around to doing them all, but I love thinking about them.