Selected documents
Receive directly by email all the documents selected during your browsing.
Your selection of documents
Unleash your creativity with MyTaraflex!
Introducing MY TARAFLEX® the newest innovation to hit the market from Gerflor. Thanks to the digital printing process, our world class sports flooring can now be customised with your world class designs.
MY TARAFLEX - REVEAL YOUR CREATIVITY
MyTaraflex is the first integrated customization service for sport flooring projects, combining the latest digital printing technology with the exceptional comfort, safety and resistance of Taraflex.
Supported by a dedicated team from Gerflor Design Lab, MyTaraflex is a new opportunity for professionals to unleash their creativity, propose unique projects and bring more value to their customers while respecting all the technical constraints related to sport flooring installations.
MyTaraflex is available across the whole Taraflex range, from high-performance sport floors up to sport surfaces engineered for multipurpose activities.
HOW DOES IT WORK ?
You have a sport flooring project and you would like something unique ?
Gather your ideas
Contact your local Gerflor representative
After a first technical study, our dedicated team from Gerflor Design Lab will support you through the different steps of the design customisation
To download our leaflet CLICK HERE
CONTACT US
5 pre-set designs for a Quick Start

(Available with all Taraflex floors : Taraflex Surface, Taraflex Evolution, Taraflex Performance, Taraflex Comfort, Taraflex Multi-Use)
You would like a different design but you don't know where to start ? For a quick start, we have pre-set 5 original designs.

More about Floor Customization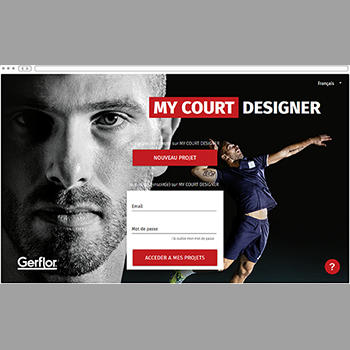 FOR A 3D VISUALISATION OF YOUR PROJECT
Choose your surface (monosport or multisports)
Choose your colours
And visualize your sport hall !
CLICK HERE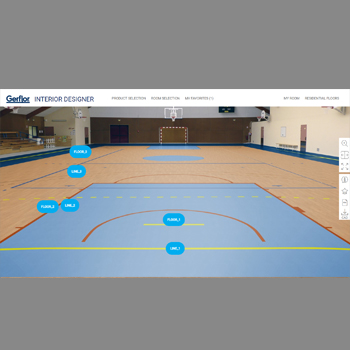 FOR A REALISTIC VIEW OF YOUR ENVIRONMENT

Download your picture and include the floor
or change the floor colors in selected pictures


CLICK HERE