Selected documents
Receive directly by email all the documents selected during your browsing.
Your selection of documents
Product eco-design
Our 7 eco-design criteria
---
All of the group's product development projects are analyzed according to

7 eco-design criteria

.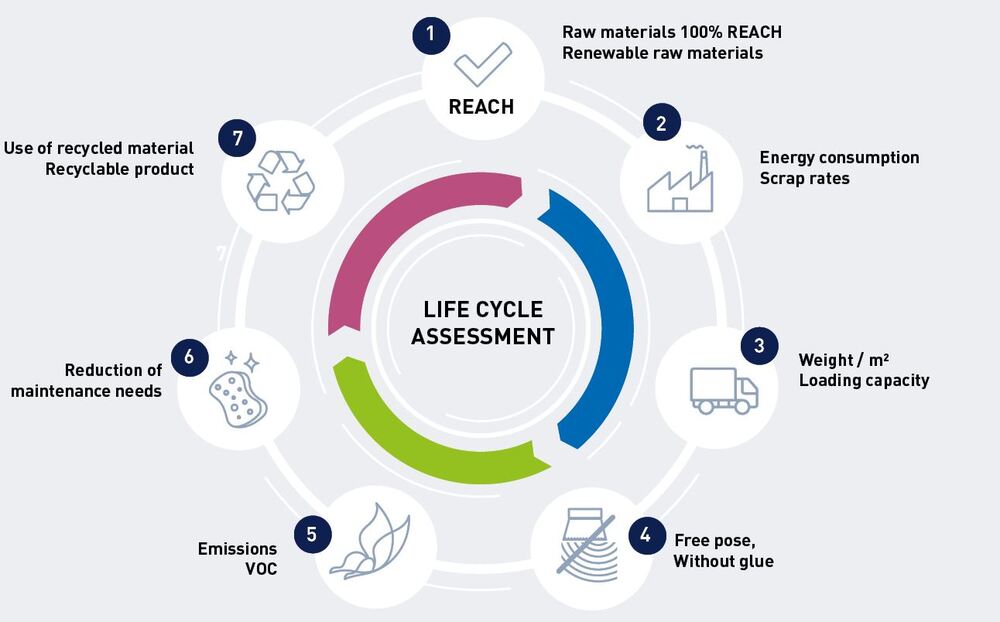 All our ranges are subject to a regular life cycle analysis.
This analysis is available in the form of a report:

The FDES (Environmental and Health Declaration Form)

.

These reports allow our customers and partners to assess the environmental impact of our products.
They also allow our R&D engineers to set eco-design objectives according to objective criteria.
In order to harmonize the methodology of the analyses, life cycle analyses are published by professional organizations.




In France, the FDES are developed by KALEI, the professional association of calender coaters, of which Gerflor is an active member.
Formulations that are 100% REACH compliant
---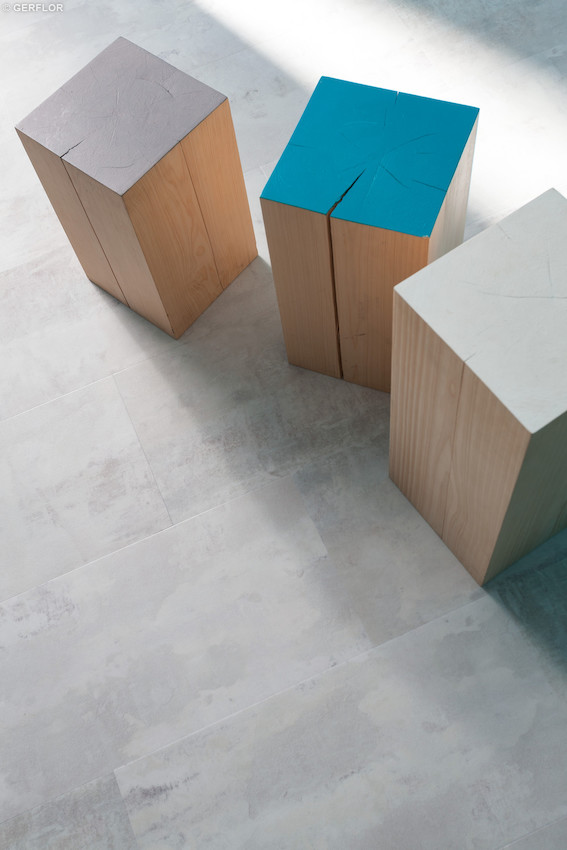 No substances subject to REACH

No heavy metals

No formaldehyde

No solvent-based inks

No PCP (Penta Chloro Phenol)

No CMR elements (Carcinogenic, Mutagenic, Reprotoxic)
REACH (Registration, Evaluation, and Authorisation of Chemicals Products),
is a European regulation covering chemical substances that have had
or suspected of having an impact on human health, as well as how they can be used.
This list is managed by ECHA (European Chemicals Agency).
Two thirds of non-carbonated materials
---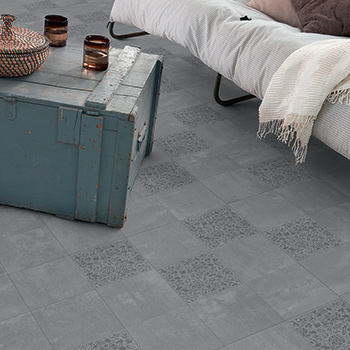 Unlike other plastic materials, PVC flooring contains on average only 36% petroleum-derived components.
64% are non-carbonated components, such as chalk or salt.
They are also less exposed to resource scarcity.
PVC = 64% carbon-free materials and 36% petroleum-derived materials*

*Average quantity
An average recycling rate of 25% in our products
---
Our objective:

40% recycled by 2021

.
On average, our vinyl products contain 25% recycled content. Depending on the products, regulatory constraints and technologies used,
the proportion of recycled content in our products varies from 0% to 100%.
The integration of recycled materials does not degrade the quality and performance of our products. Some of our most technical products incorporate more than 50% recycled content.
All recycled content complies with the European REACH regulation.
Pioneer of upcycling
In 2000, Gerflor innovated by being the first manufacturer in the world to integrate a PET textile backing produced from recycled bottles.
Technical products with high recycled content
---
Did you know?
The carbon impact of recycled PVC is 17 times lower than the carbon impact of virgin PVC.
Bio-sourced and renewable raw materials
---
100% bio-sourced plasticiser
Mipolam is one of the oldest PVC flooring brands in the world and the reference for homogeneous floors (single layer) since 1937.
The Mipolam Symbioz range includes a 100% bio-sourced and renewable plasticizer based on wheat residues.
Cork for acoustics
Cork is a 100% natural and renewable material.
Gerflor is one of the few manufacturers to use cork for the acoustics of its floor coverings, such as Creation Top Silence, Virtuo Top Silence or Saga2.
Wood from sustainably managed forests
Connor Sport is the first member brand of the MFMA(Maple Flooring Manufacturers Association) to obtain FSC(Forest Stewardship Council) certification more than 20 years ago.
This certification ensures that the wood used to manufacture Connor Sport sports floors comes from sustainably managed forests.
Linoleum: a 100% bio-sourced and renewable offer
---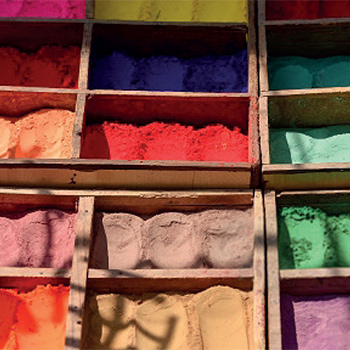 Linoleum is a floor covering made of 100% bio-sourced and renewable raw materials.
It is composed of linseed oil, sawdust, pine resin, chalk, burlap, cork and pigments.
It is naturally anti-bacterial, antifungal and extremely resistant, making it an ideal floor for health and education.
---
Did you know that?
Since the acquisition of the DLW brand in 2018, Gerflor has been one of the only 3 linoleum producers in the world.
Process eco design
ISO

certifications 14001 & 50001
---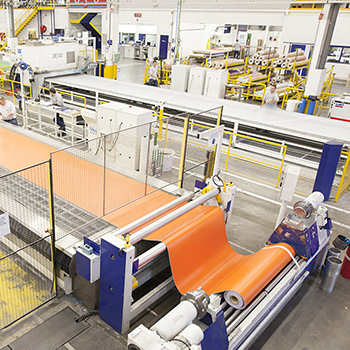 Continuously improve our quality, environmental and energy performance.
Total quality management is a standard at Gerflor. All sites are ISO 9001 certified.
This certification was quickly extended to systems relating to environmental management and energy management:
All Gerflor* plants are ISO 14001 (Environmental Management) certified
Our main plants in France and Germany are ISO 50001 certified (Energy Management)
All Gerflor sites also have a health and safety management system.
The Troisdorf (Germany) plant, which produces homogeneous floors, is also certified to BS OHSAS 18001.
KLAM plant
---
The weakest energy consumption per m2 produced.
An eco-designed plant located in Saint-Paul-Trois-Châteaux (Drôme - France), the KLAM plant is entirely eco-designed.

Representing an investment of 60 million euros and specialized in vinyl tiles and slats, it has
with a production capacity of 10 million m²/year.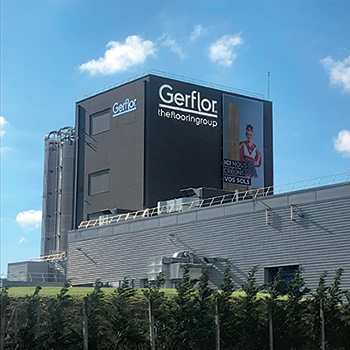 Half as much energy per m² produced*
World leader in vinyl tiles & slats since 1985, Gerflor has combined
several process innovations unique in the world to drastically reduce
the environmental impact of its production:
A recycling centre that can integrate up to 55% recycled content into products
A mixing process using gravitational force
A continuous manufacturing process continuously optimizing the product temperature
* Compared to a traditional process
Optimized environmental impact
---
100% green electricity in France
In France, where most of our production is carried out, 100% of the electricity consumed by our plants comes from sources of renewable energies.
This electricity, on average 5% more expensive, is guaranteed by Certificates of Origin.
Energy consumption: -10% in 3 years
Over the past 5 years, the heating and cooling systems of our main plants (Tarare, Saint-Paul, Grillon, Troisdorf) have been modernized.
For example, at the Saint-Paul site, the redesign of the 2 m roll production line allowed an energy saving of 30%.
Biomass energy production
At the Amasa site (USA), the sawdust used to cut parquet boards is recovered to supply the plant's heating system.
---
Water consumption: -98% in 20 years
We have reduced our water consumption from 5 million m³/year to 0.095 million m³/year in 20 years. In particular, the installation of a closed-loop cooling system in Tarare and a continuous production process in Saint-Paul have made it possible to drastically reduce water consumption per m² produced. In particular, the installation of a closed-loop cooling system in Tarare and Grillon and a process for...

Discharge and treatment of fumes
Over the past 5 years, the latest generation smoke treatment installations have been installed at our main sites in France (Tarare, Saint-Paul, Grillon).
Noise and risk control
Each new industrial project includes objectives to improve acoustic performance and control risks. For example, the new production line in Tarare incorporates the latest technologies available in terms of acoustics. During its construction, the effluent collection system in the event of an incident and fire protection for the entire site
have been reviewed and strengthened (water reserves multiplied by 10). ...with biodegradable agents and the water from the ink residues is "recycled" by evaporation.
Optimized transport
---
Production close to our markets
Our geographical proximity allows us to offer our customers a high level of responsiveness, fast deliveries and a high service rate.
This proximity also allows us to limit the environmental impact of transporting our products, unlike some of our competitors' products imported massively from Asia.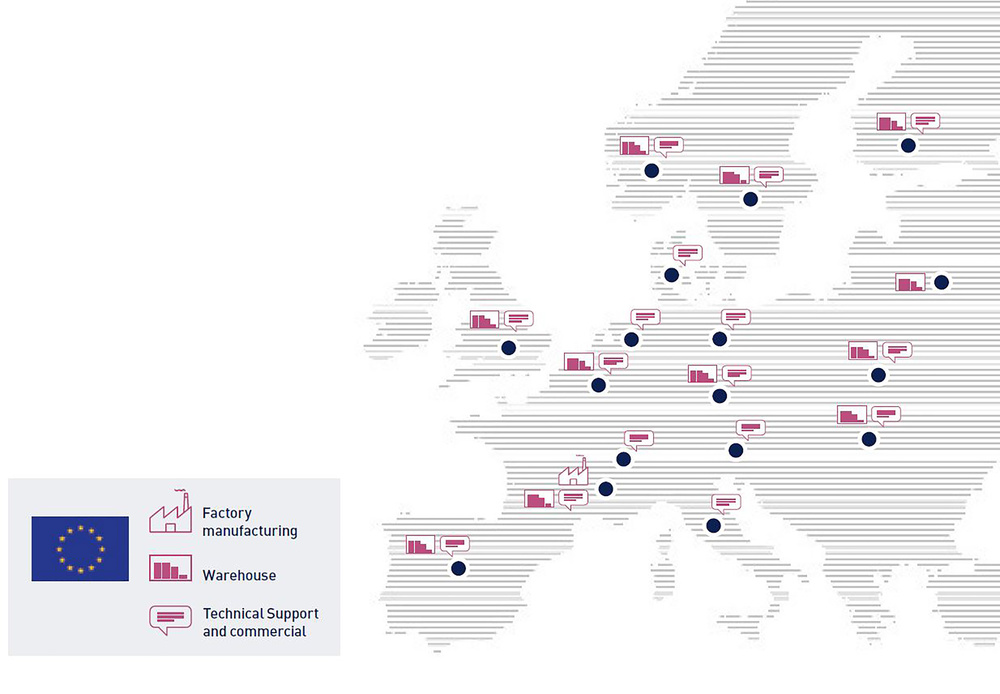 Reduce emissions from material handling vehicles
At the Saint-Paul site, diesel vehicles used to handle semi-trailers were replaced by 2 electric tractors in 2019 and heavy goods vehicles are no longer entering the site.
These new vehicles have both improved safety and reduced noise and CO2 emissions on site. At the Tarare site, the group plans to replace all handling vehicles with electric vehicles by 2022.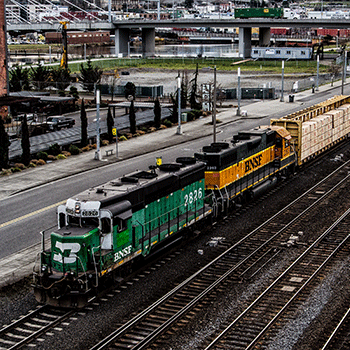 Optimization of Land Transport

Gerflor constantly optimizes its transport plans and transfers certain flows from road to rail when rail transport offers a viable alternative economically and in terms of time for the customer. For example, since 2013, 100% of products destined for Belgium and the Netherlands have been shipped by rail through France.
Since 2019, two-thirds of the flow of semi-finished products between the Troisdorf plant (Germany) and the Group's French plants has now been transported by rail.