Selected documents
Receive directly by email all the documents selected during your browsing.
Your selection of documents
Specifications
Virtuo Tiles and Planks
Hybrid
TopSilence Design: the must-have hybrid acoustic plank
The ultimate in trendy designs
With a selection of 15 superior quality finishes reflecting the latest trends sweeping the home interior market, the TopSilence Design range features 4D high-definition designs with their distinctive embossed matt surfaces, ultra-realistic and natural-looking appearance, vibrant colours and bevelled edges. Check out the extensive choice of imitation parquet and wood floor coverings (white, grey, naturel beige, brown, etc.), which are available in 123.5 x 22.9 cm planks, as well as the slate and grey stone effects ("Crepuscule Grey", "Negra" and "Minho"), which are available in 29.8 x 62 cm tiles. Play around with the different designs to your heart's content and find the ideal solution to elevate your home interior style, whether rustic, Scandinavian, industrial or ethnic, to name but a few!
TopSilence Design: quick and easy fitting with the snap-together system
The acoustic PVC planks and tiles incorporate the Lock System, meaning that they are incredibly quick and easy to fit by simply snapping together, which will save you tremendous time and labour costs. Planks and tiles snap and lock together intuitively. You can use a mallet during assembly. You will hardly need any tools at all (a straightedge, a pencil, etc.). Do not forget a jigsaw or circular saw for cutting.
Gerflor TopSilence Design can be installed on nearly every substrate (except for carpets and textiles) without any need to prime the surface, as long as the substrate is flat, smooth, even, dry, solid and clean. This hybrid PVC plank is especially suited to covering up ceramic tile floors (joints no more than 6 mm). In other words, you can instantly enjoy this high-performance acoustic flooring from Gerflor without having to smash up your ceramic floor tiles!
When it comes to cleaning Gerflor TopSilence Design, do not be intimidated by its authentic wood design! The PUR+ surface treatment is applied to TopSilence Design planks and tiles for the ultimate in easy cleaning. To keep your floor covering in tip-top condition every day, simply use a vacuum cleaner or broom, or clean with a damp mop and some neutral detergent. A word of warning: this hybrid floor covering is not suitable for installing in wet areas. Therefore, we would not advise you to fit this product in bathrooms, kitchens or laundry rooms, or in professional areas that are overly exposed to water and humidity.
TopSilence Design: the king of silence
These snap-together PVC planks combine all the advantages of a PVC floor with the benefits of a laminate floor. This 9.5 mm-thick hybrid floor covering comprises several layers, including a considerable 0.4 mm wear layer and a HDF core to ensure stability. The Gerflor TopSilence Design range is made in Europe and boasts an antistatic design. The product is particularly resistant to impacts, residual indentation and scratches, as well as light, fire (Bfl-s1 rating) and castor chairs. These non-slip (R10 anti-slip rating) hybrid PVC planks are also compatible with underfloor heating systems (water-based systems with a maximum temperature of 27°C).
This acoustic floor covering also contains a resilient core for absorbing ambient noise and ensuring underfoot comfort and warmth. Finally, the range includes a cork underlay (PEFC-certified cork) that is directly incorporated into the underside of the planks and tiles to improve their ability to reduce impact noise by up to 16 dB! With its superior resistance and exemplary sound absorption performance, this collection represents both a practical and eye-catching solution for lounges, bedrooms, passageways and home offices, as well as public, commercial and administrative buildings with moderate levels of foot traffic (hotels, shops, offices, libraries, waiting rooms, and so on).
Gerflor: committed to your health and the environment
TopSilence Design planks and tiles are certified by the FSC ecolabel, which guarantees that the wood used in their construction is sourced from sustainably managed forests. As such, this collection remains true to Gerflor's philosophy of protecting health and the environment. Lastly, this eco-friendly hybrid PVC product features an A+ rating for its indoor air quality performance and is free of any harmful substances! Choosing Gerflor vinyl planks and tiles is not just good for the environment, but also for your health.
Their chemical resistance means that they can be cleaned with eco-friendly household products and soap.
The designs in this collection come with a 12-year guarantee.
(TopSilence Design vinyl planks and tiles; 20 colours; total thickness: 9.50 mm; wear layer thickness: 0.30 mm; two formats: 229 x 1235 mm or 298 x 620 mm; weight: 9,880 g/m². Refer to the data sheet for other characteristics).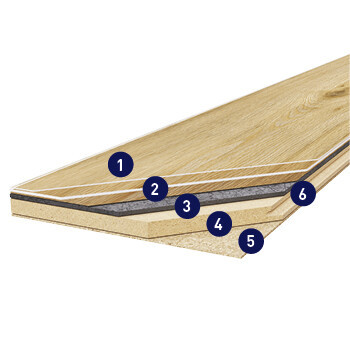 1 - PUR+ MATT - Easy maintenance
2 - 4D DESIGN
Structured emboss & bevel : ultra realistic surface 
Matt surface : Natural look
Cristal wear layer : High definition design & color
Collection : Wide variety of tiles & planks
3 & 4 - HYBRID TECHNOLOGY
Resilient comfort core : Noise absorption, soft underfoot
Wood core : the best stability, renovation ceramic 6mm joint
5 - NATURAL INSULATION
6 - LOCK SYSTEM
Gallery
Get inspired for your project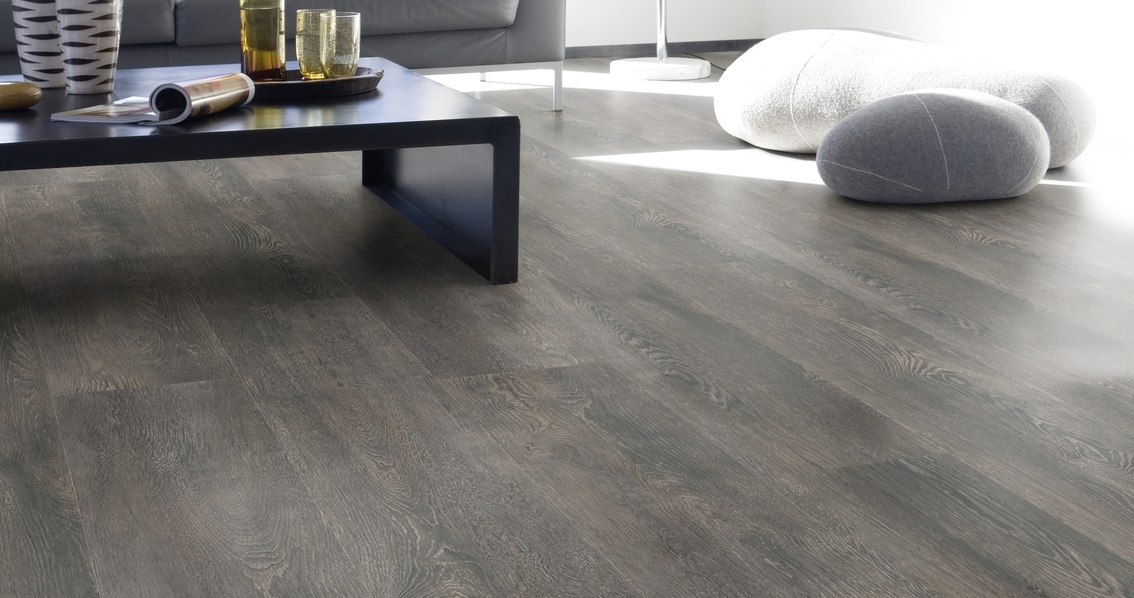 Virtuo Tiles and Planks
Topsilence Design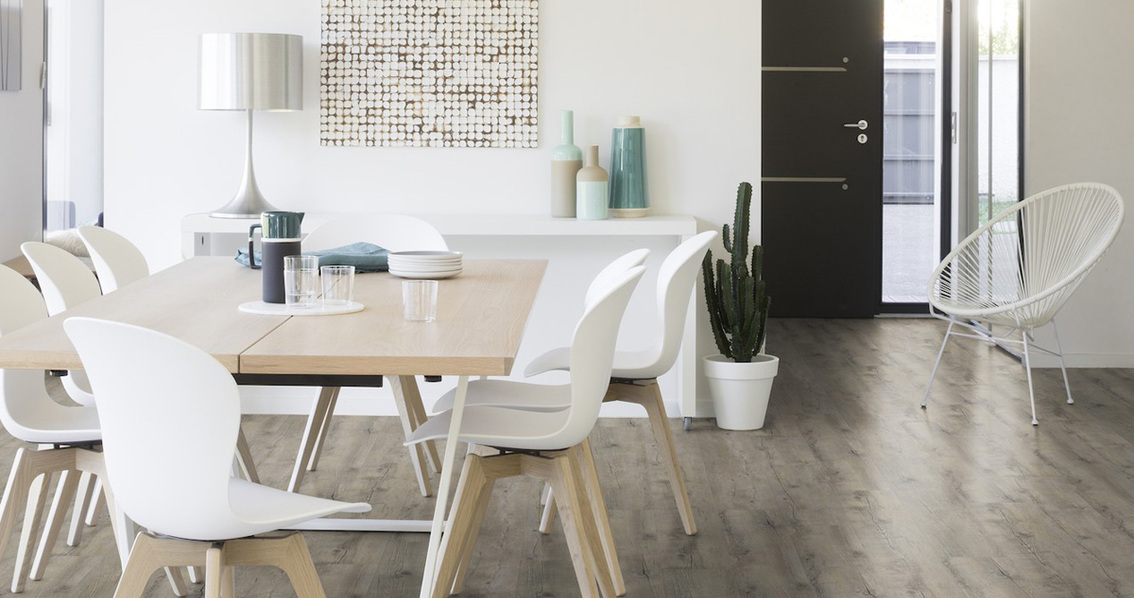 Virtuo Tiles and Planks
Topsilence Design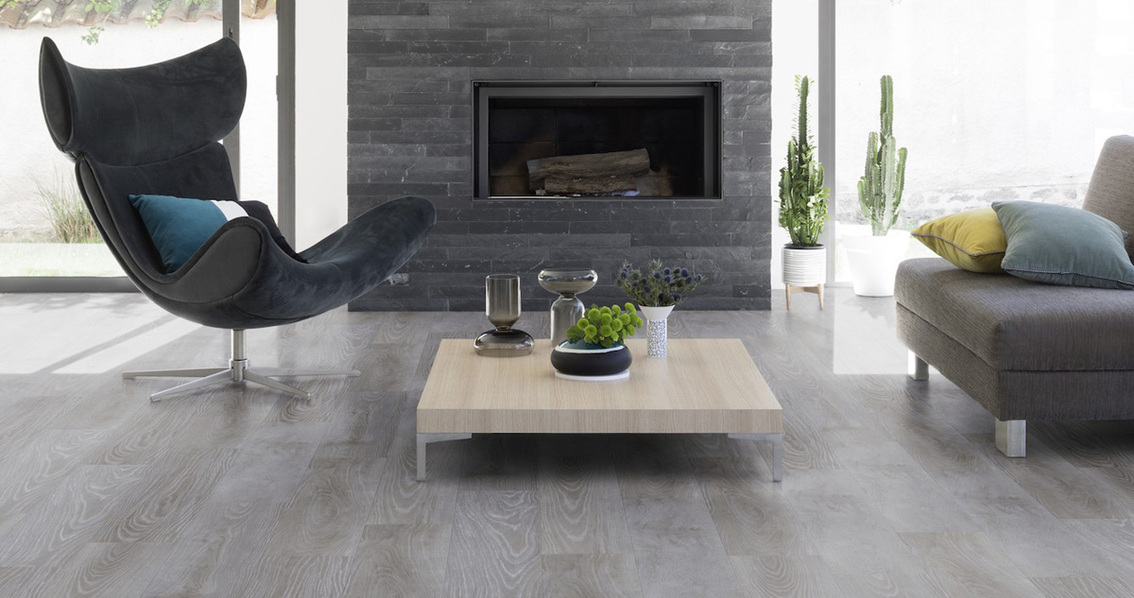 Virtuo Tiles and Planks
Topsilence Design
Colors
Discover our decors
and colours
Results : 20
Filter_colors
Documents
Discover the documents at your disposal for your projects
Videos
Discover the related presentation videos and tutorials
TopSilence Design - Installation Guidelines
Complementary Products
In addition to the product Topsilence Design, we also recommend you to take a look at the complementary products