Selected documents
Receive directly by email all the documents selected during your browsing.
Your selection of documents
Specifications
Vinyl Rolls
Vinyl Rolls - Vinyl backing - Glue down
A new generation of ultra thick, vinyl flooring with fiber technology for extra comfort
All the benefits of a carpet, with the easy maintenance and hygiene of a vinyl floor!
Backing : patented technology= Gerflor Fiber technology > a combination of materials for a performing floor
Resistant: resilient fiber for a better resistance to residual indentation
Comfort: Flexibility, thermal and
Watertight: waterproof, adapted to a bathroom
Eco-friendly: fibers from plastic bottle
Easy to lay: no glue and direcly on most subfloor
All uses
Installation conditions: see the instruction guide
Total thickness: 2 mm
Thickness of wearlayer: 0.40 mm
Weight: 2560 gr/m2
Acoustic insulation: 6 dB
Made in France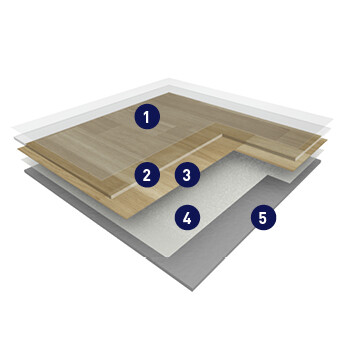 1- PUR+ Treatment
2- Transparent wearlayer
3- Printed Design
4- Glass fibre grid
5- Compact backing
Colors
Discover our decors
and colours
Results : 13
Filter_colors

World Leader
Floor covering solutions

Responsible
Recycled materials, recycling of end-of-life products, ISO14001

Multispecialist
Specific responses to the needs of twenty market segments

Expert team
Commitment to the success of our customers

Customer success
Daily commitment to guarantee our customers total quality and competitiveness.