Selected documents
Receive directly by email all the documents selected during your browsing.
Your selection of documents
26.09.2016
The Gerflor bunnies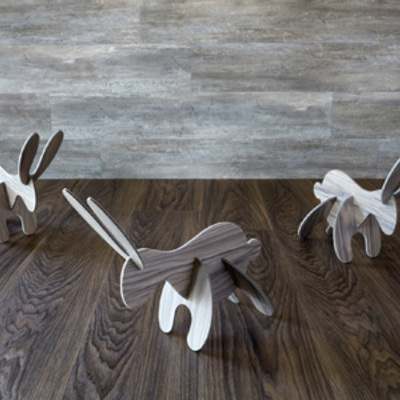 We, at Gerflor, have tried to turn lead into gold but that's not so easy, many alchemists have tried but none have succeeded!
So we have decided to start with something that's more down-to-earth or rather "down-to-floor" :
We have turned Creation LVT into little bunnies!
With only a few tools and little time, we gave birth to 4 bunnies and believe us, that was much easier and funnier than any alchemical experiment.
So have a look at our little Creation rabbits frolicking on our Creation LVT.
But let's become serious, for more information on Creation LVT ranges, you can browse on : Gerflor LVT ranges Creation
Our ranges of Creation luxury vinyl tiles and planks are available in 3 wear layers 0.3, 0.55 and 0.70 mm to meet all kinds of traffic requirements (low, medium or high trafficked areas). They are manufactured with various installation methods : adhered, clic installation, removable, adhesive free...
They are available in various realistic wood, mineral or graphic designs to suit every interior's style (Creation 70 was recently awarded Red Dot Design Award) .