COMMERCIAL
Flooring
News
/
Gerflor puts its expertise and technology at the service of the Museum des Confluences in Lyon
08.07.2019
Gerflor puts its expertise and technology at the service of the Museum des Confluences in Lyon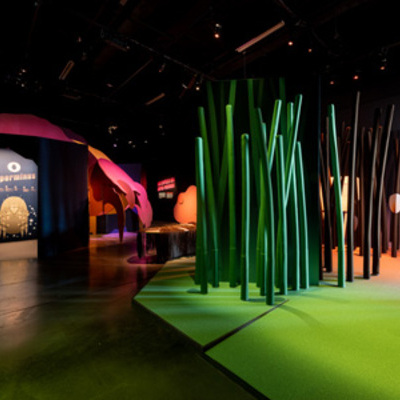 Gerflor is the sponsor of the new exhibition "Mini-Monsters, the Invisible" at the Musée des Confluences de Lyon from 26 June 2019 to 3 May 2020. With more than 680,000 visitors per year, the Musée des Confluences is the most visited museum in France after Paris.
Through a sponsorship agreement in kind and skills unprecedented in the history of the Musée des Confluences, Gerflor's technical experts and designers have taken up the challenge of participating in the immersive nature of the exhibition by proposing and creating with the scenographers the floors and wall decorations of the various spaces.
Gerflor supplied and installed 76 sqm of a new range of floor coverings, Taralay Impression Numérique, and 26 sqm of SPM Decoprint wall coverings. These two products benefit from the latest digital printing technologies to enable architects and interior designers to offer their customers increasingly unique and personalized projects.
After the launch in January 2019 of MyTaraflex, a unique personalization service for flexible sports floors, Gerflor will offer to building professionals the new Taralay Digital Printing before the end of 2019. Gerflor is thus pursuing its strategy of democratizing digital printing, a technology previously reserved for some of its most demanding customers.